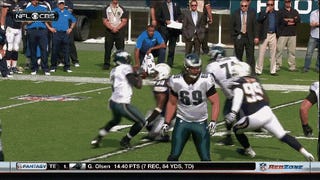 Chargers 33, Eagles 30: Philip Rivers played a nearly perfect game—419 yards with three touchdowns and no interceptions—but fumbles from Antonio Gates and Ryan Mathews kept the Eagles within reach. Nick Novak gave San Diego the final lead, kicking a field goal with seven seconds remaining. Michael Vick had an excellent stat line too, throwing for 428 yards and two touchdowns while running for another. He took some hard hits throughout the game, like the one seen above, but only missed one play.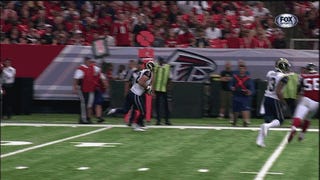 Falcons 31, Rams 24: The score seems closer than it actually was. Atlanta led 24-3 at halftime, and St. Louis tried to play catch up, but it was futile. William Moore slamming Mike McNeill is a good summary of what the Falcons did all game.
Bills 24, Panthers 23: After a defensive pass interference call on Luke Kuechly, E.J. Manuel had a chance to topple Carolina, and he did, finishing an 80-yard drive with an easy touchdown to a wide-open Stevie Johnson. Ron Rivera presumably reacted to this collapse by coughing and gazing at nothing in particular.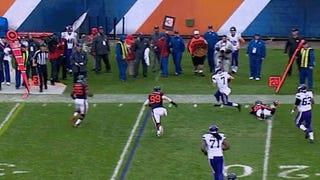 Bears 31, Vikings 30: With 10 seconds left, Martellus Bennett caught a 16-yard pass from Jay Cutler, and the Bears concluded a three-minute march down the field. Christian Ponder can certainly take hits, but that's not how a quarterback creates points; maybe the Vikings can look into Josh Freeman?