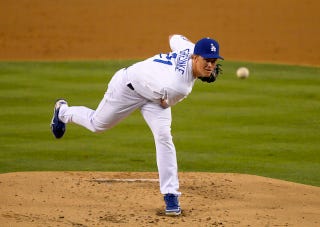 The Dodgers have been on an absolute tear for more than two months. And Clayton Kershaw, who possesses an impossible 1.72 ERA as the calendar nears September, looks all but certain to win the National League Cy Young Award for the second time in three years. But we really need to talk about Zack Greinke and how well he's pitched since he began throwing his changeup more frequently in recent weeks.
After missing a month with a broken collarbone early in the season, Greinke struggled in three of his next four starts. But since then, he's been showing the sort of dominant form he's only displayed in flashes since his brilliant 2009 season in Kansas City. Last night, Greinke pitched 8.2 innings and struck out nine. (This does count, even though he did it against the Cubs.) It was also his fifth victory in as many starts this month. All told, Greinke has made 13 starts since the Dodgers began what is now a 47-12 streak a little more than two months ago. He's 10-1, and the Dodgers also won the two games in which he didn't factor into the decision.
L.A.'s current streak began on June 22, when Greinke got the start a couple of hours down I-5 in San Diego—his first start there since he plunked Carlos Quentin with a pitch back in April, triggering the brawl that resulted in Greinke's collarbone injury. Heading into that game against the Padres, Greinke had an ERA of 4.22 ERA and a SO/BB ratio of 2.33. Hard though it may be to believe now, the Dodgers were 30-42 and in last place in the National League West at the time, 9.5 games out of first.