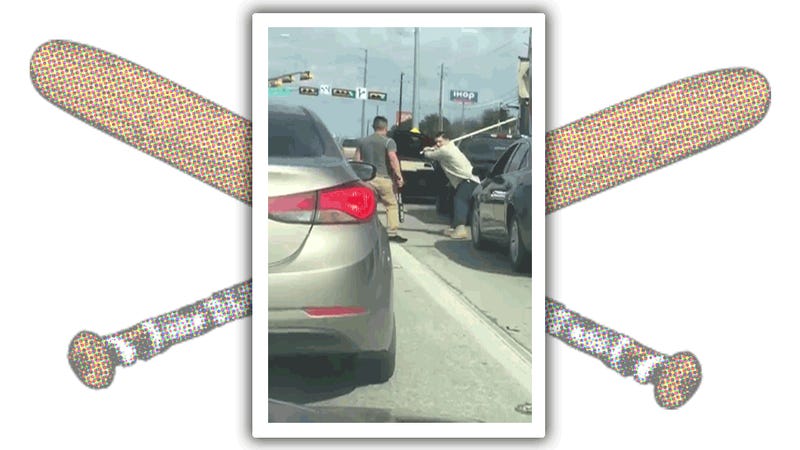 In Austin, Texas, honor is taken seriously. As any Austintonian can tell you, traditions are strong. Traditions like the ancient and venerated art of solving mild traffic disputes with a ritualistic bat-and-pole fight, just like these two noble morons did Monday morning, at least according to a Tweeted video of the…
Police got into a high-speed pursuit with a robbery suspect in Dallas today, and the chase ended when the suspect slammed into a line of cars at a stop light. That's when he was apprehended not by police officers, but by a road-raging couple who were not about to let some asshole just get away with wrecking their car.
Road rage in racing is nothing new, but it can sometimes lead to incredibly dangerous results. Racer Mike Robertson learned that the hard way last night when he was dragged at speed along the track at a race in Winston-Salem, North Carolina last night.
A's pitcher Dallas Braden caused a scene at a public meeting last week, brandishing a baseball bat and yelling about the high crime and lax police response in his hometown of Stockton, Calif. He said his grandmother had been robbed, he had been assaulted in his car, and enough was enough—he's moving out of Stockton.