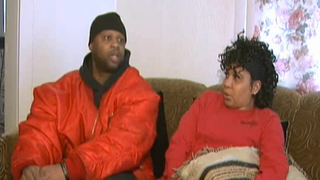 Earlie Johnson spent years building his collection of rare pornography, which he claims featured every African American to ever appear in porn from 1970 onward and was worth $7,500. On Tuesday, Johnson and his fiancée, Angela Morton, came home to find that the entire collection had been stolen by burglars. Now please enjoy these quotes that Johnson gave during a candid and oddly heartwarming interview with WZZM 13:
My collection was the best in Michigan— a guy in Connecticut told me that.
They came upon it and looked at the titles and realized what they had ran across... and realized people will pay cash money for them DVDs.
I trade and I collect and I look at them too. I ain't got no problem with that.
I'm not no scum bag guy, pervert, or nothing like that— I just thought it was cool to own my own porn collection. It keeps my relationship fresh and tight, and I learn stuff that I can use on [my fiancée].
To their credit, the couple seems to be taking the robbery in stride. Johnson says he plans to rebuild his collection. We wish him the best of luck.
h/t Tim
[WZZM 13]