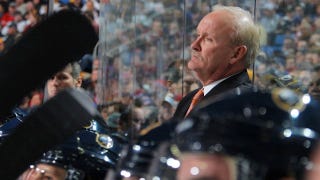 When Lindy Ruff was hired as Sabres coach in the summer of 1997, Nail Yakupov was three years old, Mario Lemieux was the reigning Art Ross winner, and Teemu Selanne was already a veteran. Now, in the middle of his 15th season, Ruff has been fired.
He was the NHL's longest-tenured coach, and behind Gregg Popovich, the second-longest tenured coach in North American sports. Unlike Popovich, he never really won anything. He inherited a great team, featuring Dominik Hasek at the top of his game, and but the best they could do was a finals loss in 1999. After a fallow period before the lockout, Sabres Mark II emerged as one of the peskiest franchises in the league, making two Eastern Conference finals in a row. But after losing Chris Drury and Danny Briere, Buffalo never quite competed again.
They're near the bottom of the league right now, and a lifeless 2-1 loss to the Jets, with fans booing nearly the entire game, was the final straw. Winnipeg can break you like that.
What's the problem with the Sabres? "Talent," says one league source. Which is why it's fascinating that Ruff's firing was announced by GM Darcy Regier, who was hired the same time as Ruff. It was always sort of assumed that the two were a package, and would go in the housecleaning. But while it's hard to argue Ruff was getting the most out of this roster, it's still a mess—and that's Regier's doing. If the rebuild doesn't start in earnest, the housecleaning's probably not done in Buffalo.