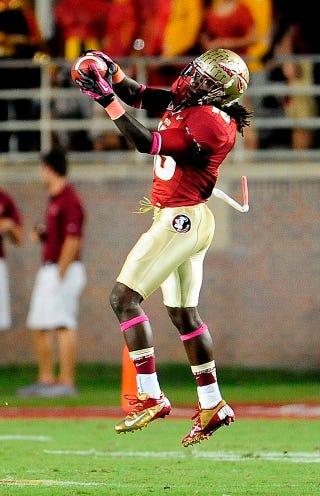 Greg Dent, a rising senior receiver for Florida State, was arrested and charged with felony sexual assault last night after he allegedly tried to force himself upon a woman with whom he's been friends for years.
According to a police report obtained by Warchant.com, Dent and the alleged victim have been "very good friends" since their freshman year in high school. Her parents know him, and they frequently let him borrow her car. The woman often cooks dinner for and stays with Dent, as she did on Saturday night. Dent and the woman also went to a club with friends, but after they returned is when things allegedly took a turn for the worse.
At approximately 3:30 a.m. Sunday, the victim awoke to Dent trying to kiss her on the lips. The victim told Dent "no" but Dent became "increasingly forceful" trying to kiss her. The victim then bit Dent's upper lip and he jumped out of the bed.

Within a few minutes, Dent returned to the bedroom naked and laid in the same direction as the victim. Dent began touching the victim and was able to pull off her shorts and underwear as she struggled to resist. The victim continued to resist, eventually grabbing Dent's hair with one hand and punching him in the head with the other.

The victim also tightened her legs as Dent tried to pull her legs apart. The report states that on two occasions, Dent was able to partially penetrate the victim.

The struggle continued until Dent and the victim fell on the floor. The victim was able to grab her belongings and run out of Dent's apartment. She reported the incident to the Tallahassee Police Department on Sunday.
Dent has been charged with sexual battery, a second-degree felony that carries a jail term of up to 15 years. His bond was set at $15,000, which he was expected to post today, according to his attorney. This afternoon, Florida State announced that it has suspended Dent indefinitely from the football team.
Dent charged with felony sexual assault, bond set [Warchant.com]
Dent arrest report [Warchant.com]
Photo credit: Getty