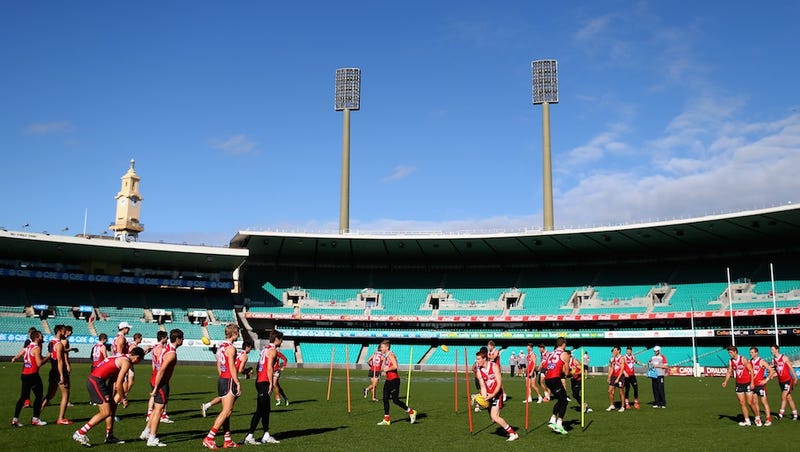 It was just a glimmering possibility back in October, but it's real now—the Dodgers and Diamondbacks will open the 2014 season next March with a two-game series at Australia's Sydney Cricket Grounds (above). Yes, those Dodgers and Diamondbacks. It'll be the first-ever regular-season game played in Australia, and the first non-Japan, non-North-America regular-season game, too. Exciting!
We are looking forward to down-under Vin Scully, to Kirk Gibson's inevitably horrifying hunting spoils from the bush, and to Zack Greinke's face the first time he is made to try Vegemite. This will be a fun trip.
But the Australians may have been sold a bit of a bill of goods on the game, to judge by what's printed in the Daily Telegraph:
"This is a significant win for Sydney and again delivers on my election commitment to bring major events to NSW. It's estimated the matches will deliver a $13 million benefit for the local economy, as well as attract visitors from interstate and overseas," Premier Barry O'Farrell said.

[New South Wales] will be showcased to an estimated global TV household audience of up to 168 million, including 75 million in the US.
$13 million AUS is a lot of money! (Based on current exchange rates, approximately $12.4 million US.) Two baseball games—even two baseball games feverishly anticipated by locals bored of rugby and cricket and bastardized football—probably cannot fetch that kind of dough for the local economy, no matter what kind of multiplier they use down there. And 75 million American viewers (plus 93 million abroad) for a pair of very-early-morning NL West games in March? Yeah, no. Perhaps the premier means that 75 million Americans will have the chance to watch the games, which is an impressive figure all the same, except for that far more Americans have the chance to watch The Steve Wilkos Show.
But the scam New South Wales might be facing should not temper our enjoyment of this splendid thing. Heck, the Daily Telegraph headline calls the series MLB's "curtain-raiser," and the body text mentions "a bit of biff" in reference to last night's brawl. Just wait until the Aussie press corps discovers Yasiel Puig.
Sydney Cricket Ground to host $13 million US baseball curtain-raiser [Daily Telegraph]