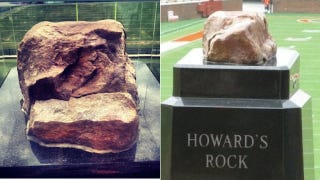 According to various reports, another one of college football's sacred totems has been vandalized beyond repair. Police say that somebody recently broke into the Clemson University football stadium and broke a huge chunk off Howard's Rock. The stone sits on a pedestal at the top of the hill that the Clemson players walk down before each game, and it is tradition for each player to rub the stone for luck.
According to a statement released yesterday by the university, police believe that the rock was vandalized on either June 2 or June 3. Police say the vandals were somehow able to remove the plexiglass case that protected the rock before hacking away at the stone, which as you can see in the photo above, is now all kinds of fucked up.
This isn't quite as bad as Alabama fan Harvey Updyke poisoning the old and beloved oak trees at Auburn's Toomer's Corner, but it's still a pretty shitty thing to do. The only thing more annoying than college football fans who take their traditions too seriously are people who go out of their way to try and destroy those traditions.