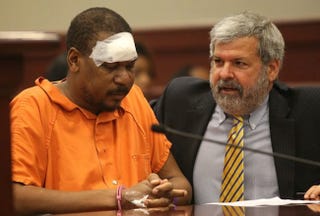 Former Hawk Mookie Blaylock is facing a charge of vehicular homicide for a crash last month that killed a 43-year-old woman. After two days in jail, Blaylock bonded out late last night. He was immediately taken to a jail one county over.
On May 31, Blaylock's SUV drifted into oncoming traffic and struck a car head-on. After being released from the hospital on Monday, Blaylock surrendered and was placed into the Clayton County (Ga.) jail. After two days, he posted the $250,000 bond. He was then transported to the Spalding County Jail, where he's currently being held on charges relating to a probation violation for an unknown sentence five years ago.
Blaylock's got a lot of legal problems. At the time of his crash, it was reported that he was driving with a suspended license and an outstanding warrant to appear on DUI and drug charges. Then, separately, he's still awaiting a court appearance after a March arrest for alleged DUI and hit-and-run.
Blaylock's lawyer has claimed Blaylock had a medical emergency that caused him to black out before the wreck, but a judge earlier this week said his extensive arrest record will be taken into account.
[Atlanta Journal-Constitution, h/t Corey]