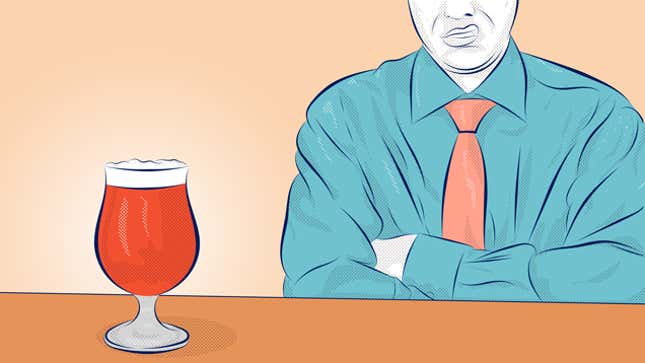 As we all know, stouts are the best beers. But with temperatures rising, you may find that your local breweries have fewer on tap, your local liquor stores have fewer in stock, and your loved ones may look at you a little funny when, after mowing the lawn in triple-digit temperatures, you try to cool yourself down by chugging a bomber of Dark Seas Russian Imperial Stout. Sad but true: For folks like us, the warm seasons can be lonely and desolate, like winter, but … warmer. Still, we must do our best to persevere, which means finding something else to drink.
Is Texas or Florida State a bigger national title contender? | Agree to Disagree
Now, I'm the last person in the world who wants to do this. But it's time to tread down the very unfamiliar path of what I once thought were my least favorite kinds of beers: IPAs. I soon discovered what pretty much everyone else already knows: There are some damn good ones out there, even if you insist you hate them all. Here are 12.
12. Petty Larceny (Answer Brewery; Richmond, Va.)
Let's start with a super-drinkable IPA, and easily one of the cleanest beers I've ever tasted, with a nice hop punch up front and no aftertaste. While there's absolutely no sweetness here, there's also no bitterness: It's simply a dry, floral, very good beer, perfect for hot days or long nights. I had a chance to meet Answer brewer Brandon Tolbert, who told me that his first beer-loves were big, bold stouts, and that he still enjoys a massive dark beer. So not only is this a great beer for a stout lover, it's a great beer by a stout lover.
11. Sculpin (Ballast Point; San Diego, Calif.)

Very flavorful, but very balanced. I detected a faint peach flavor on the back end of this, a great counterpoint to the hop-forward but not-too-assertive first layer. In the last six months or so, Ballast Point has become one of my favorite breweries, between this, their imperial porter Victory at Sea, their amber Calico, and some assorted specialty beers I was fortunate enough to try recently.
10. Avatar Jasmine IPA (Elysian; Seattle, Wash.)
After drinking this, I asked my wife if jasmine and lavender were the same thing; this IPA tastes very little like an IPA to me, and while I have no idea what jasmine tastes like, I knew immediately that Avatar Jasmine tastes EXACTLY like one of those lavender candies. Anyways, turns out lavender and jasmine are NOT the same thing, which reminded me of the time I casually mentioned to my wife how sheep and goats are the same kind of animal, and she thought I was joking, until she realized she was just married to a guitar player who grew up in New Jersey. (My drummer later made the same sheep/goat mistake; must be a Jersey thing.) Anyways, this beer tastes like lavender candies, which is really good! Though I can't see drinking a lot of it, just like I can't see eating a lot of lavender candies. Also, it's actually jasmine.

9. Tunnel of Trees (TRVE; Denver, Colo.)
Named for the kick-ass Deafheaven song above, this IPA has a pretty, reddish tone and some nice depth to it, with a bit more body than I'm used to with IPAs. If you're ever in Denver, check this place out: It's got a killer atmosphere, with great musical taste—see Stout-O))), my favorite beer named after a drone-metal band—and a reputation for great sours.
8. Cali-Belgique (Stone; Escondido, Calif.)

This beer is delicious. Really, really delicious. In a blind taste test, I'd swear it was a hop-forward Belgian white, but it says "IPA" right there on the bottle, and Stone generally does excellent work and presumably would never lie to me.
7. The Hop Harvest Series (Portsmouth Brewery; Portsmouth, N.H.)

They typically do two or three of these per year; I tried the two they offered last October and fell in love. It was a very cold, very rainy night, and all I wanted was a goddamned imperial stout, but I wound up entranced by these fresh, wet-hopped IPAs instead, proof that a big beer doesn't have to be a heavy beer. Bright and cheery and citrusy, they were also very warm and comforting—a very rare feat for an IPA.
6. All Day IPA (Founders; Grand Rapids, Mich.)
A buddy of mine recently Instagrammed a photo of this beer's label with the caption, "Challenge accepted." But drinking this all day isn't so tough. This is one very refreshing beer, with a light flavor profile (citrus, pine, bitterness) to match its low ABV; with session beers, you've got to keep your taste buds in check alongside your blood-alcohol content, given that a really strongly flavored IPA is going to wreck your palate. (Green Flash even makes an IPA called Palate Wrecker.) As for All Day, this is ideal for cookouts and yard work.
5. 400 Pound Monkey (Left Hand; Longmont, Colo.)
Left Hand does such solid work, it's hard not to not take them for granted. I love their stouts and porters (not to mention their cask-conditioned Black Jack porter, made with maple syrup and cinnamon), but let's talk about their lighter stuff. Polestar is a killer pilsener, and Sawtooth (an ESB) is a fail-proof beer that, if you put 100 different beer-drinkers with 100 different preferences in a room, would still please every last person. So, go figure, they also make an English IPA I can get behind, boasting a milder, rounder hop profile with a bit more body than its American counterparts. I use it in my homemade pizza dough, which is fucking delicious.
4. Inversion IPA (Deschutes; Bend, Ore.)

Deschutes makes several great IPAs (see Chainbreaker or Fresh Squeezed), but this is my favorite of theirs, and one of the most pleasing IPAs I've ever had. And though it's nowhere on the label, I swear to you this beer has very strong blueberry notes, which makes it ideal for both summer and fall. Blueberries are fucking awesome. (Not that I get to eat them anymore, thanks to Crohn's Disease.)
3. Pliny the Elder (Russian River; Santa Rosa, Calif.)
You've likely already heard plenty about this legendary double IPA, but is it as incredible (and legendary) as it's made it out to be? Absolutely. I went to the Great American Beer Festival a couple years back with a friend of mine; he insisted we go straight to the Russian River table immediately, so we didn't miss a taste of this. We waited in line for nearly half an hour, but it was totally worth it. The Elder is easily the most complex beer I've ever had. It's a strong and flavorful beer, but its strength lies in its nuances and balance. If you like expensive whiskeys and savor each sip, preferring to note the subtle characteristics, treat yourself to one of these.
2. Compass (Bristol Brewing; Colorado Springs, Colo.)
Though the flavor profile is nowhere near the same, I'd put this one right up with Pliny in terms of how good it is. And it comes at a fraction of the price (not to mention hype). It's the only IPA I've ever had that I'd describe as "sweet"; nothing on the label suggests it's made with any adjuncts, but there's a honey-like sensation anyways that makes it remarkably drinkable and incredibly satisfying. If you're in it for the hops, you'll get all that, too, but it's the odd sweetness that sets it apart.
1. DRIPA (Kuhnhenn; Warren, Mich.)
So "DRIPA" stands for "Double Rice IPA"; I hadn't tried any of Kuhnhenn's beers before, and certainly didn't expect to fall completely and totally in love. There's so much going on here: Each sip is absolutely huge on flavor (bitter, citrus-y hops and delicious cereal malts all intertwined), and yet the rice keeps it all crisp, dry, and refreshing. A 9-percent-ABV double IPA usually takes its toll on your taste buds, but this is a clean, clear masterpiece. Hands down, the best IPA I've ever had. They'll be bottling it soon, so find it on tap in the meantime. Immediately.
---
David Obuchowski plays guitar for Publicist UK, whose debut album will be released by Relapse Records in August. He tweets from @PublicistUK.
Art by Sam Woolley.
The Concourse is Deadspin's home for culture/food/whatever coverage.
Follow us on Twitter.