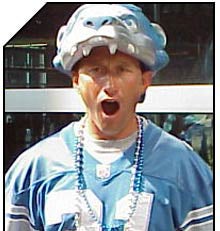 We'll be honest: We've considering doing this. An enterprising Lions fan, fed up with the historic run of bad football team has put up over the Matt Millen era, is putting \his fandom up for auction on eBay. Currently, it's up to $10.51, and even though we can come up with a few better ways to spend that kind of money, we suspect that price will go up.
Impressively, the fan has the gumption to actually put conditions on the whole deal.
Mininum bid of $2,499 required for those wanting me to be a fan for the Browns, Ravens, Cardinals or Packers. Those are the teams the Lions managed to beat this year.
Now that's just mean. By the way, that fan who got chased out of Ford Field on Sunday for carrying the "Fire Millen" sign? Predictably, he's becoming a folk hero up there.
Buy My Fan Loyalty [eBay]

Lions Fan Becoming Local Hero [Rammer Jammer Yellow Hammer]