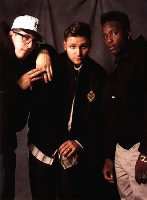 So here's something fantastic. A kindly reader informs us that the throwaway joke we tossed in our last post about ESPN's Times Square New Years Eve celebration about 3rd Bass playing at the show was funnier than we realized. You see, Peter Nash, known as "Pete Nice" in the triumvirate responsible for "Pop Goes The Weasel," is actually a baseball obsessive.
How obsessive? In his post-3rd Bass life, Nash opened a baseball collectible store in Cooperstown and has, in fact, written three books about the history of baseball, including one about famed hip-hop icon Henry Chadwick. (That one comes out next March.)
This actually makes us feel better about all those "Pop Goes The Weasel" singles we, uh, totally didn't own in the early '90s.
Ground As Hallowed As Cooperstown [Gotham Gazette]

Peter Nash Books