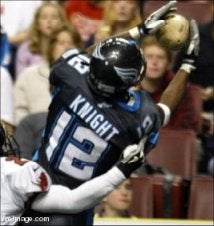 You may have thought I was kidding last week when I mentioned that you were in for a dose of Arena Football. I was not. We are all going to learn to love Arena Football, and we're going to do it together. It's Sunday, it's football, and at least for a week, I'm embracing it.
How could you not love a sport which has Jon Bon Jovi delivering impassioned pregame speeches like this one (his subliminal thoughts are in parentheses):
"This is everything to me (I really have very little going for me). This is our house. This is my home (quite literally, I live in this building... so please go purchase another copy of Slippery When Wet). We love this organization. We gotta fight for our home (so let's all pretend we're in Jersey). Right? We gotta fight for the Soul."
In addition, it's been the third different sporting event this weekend that I've heard using this damn song, we've had a Bill Gramatica sighting (he missed an extra point), and Richie Sambora is starting at tight end for Philadelphia. Okay, that's not true.
The Soul is having a nice day, leading Tampa Bay 14-7 in the first quarter.