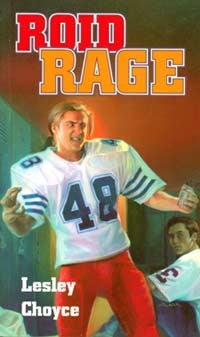 This book cover is from the young adult novel — jeez, who writes those? — "Roid Rage," a cautionary tale about a high school football player who starts taking steroids and suffers "feelings of aggression and violence [that] threaten to send him out of control." This book sounds awesome to us, and we're pretty certain that's exactly what A.J. Hawk looked like in high school.
Anyway, speaking of roid rage, blogger Planet Haystack has penned a heartwarming piece of prose about " 'roidin' on Tues. nite."
The rush isn't quite to the point to where you can actually hear colors and taste sounds, but it's damn close. Your once creaky middle-aged body is rejuvenated ... as if God Almighty himself ordered a nationwide recall and replaced your Cecil Fielder physique with a Prince Fielder model.
Yeah. This makes us totally want to "wake and 'roid," man.
Truth About 'Roid Rage [Planet Haystack]

"Roid Rage" [Harbour Publishing]