I know I'm warmer than most on the World Baseball Classic, but I think it can only be a good thing that there's actual, competitive baseball being played right now, after a long cold winter. (My enthusiasm will wane by May, when I'll be wishing they could just skip ahead to September already. But let's enjoy this!)

The tournament got started with an upset as Israel beat South Korea 2-1 in 10 innings in Seoul. Rockies single-A shortstop Scott Burcham got the winning infield single:
And then in the bottom of the frame, Josh Zeid, an unsigned pitcher who last played in the majors for Houston in 2014, fanned Mariners big boy Dae-Ho Lee to seal the victory.
G/O Media may get a commission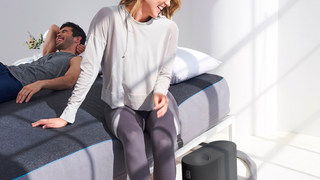 Eight Sleep Pod Cover
Israel is among the longest shots in this tournament, filled with exactly one Israeli native and a whole bunch of Jewish-American minor leaguers. Team Israel wanted the likes of Ryan Braun, Ian Kinsler, and Joc Pederson, but couldn't convince them to sign on—especially with group play taking place in South Korea. There are some occasional big leaguers here, like Oakland catcher Ryan Lavarnway, Dodgers 1B Ike Davis, and more-or-less retired starting pitcher Jason Marquis, who threw three scoreless innings today.
The flexible eligibility rules of the WBC are a feature, not a bug—anyone who is eligible for a passport from the country can play for its team, and Israel offers citizenship to anyone who has a Jewish parent or grandparent. Israel wouldn't be able to field a team without this—there are reportedly 800 baseball players, across all age groups, in the entire country—but the point of this tournament is to bring the sport exposure it places it might not get otherwise.
"One of the main goals of the tournament is to grow baseball around the world, and by allowing these countries that maybe don't have the great amount of talent, by allowing these guidelines and entrance rules, you allow countries like Israel, where baseball is still growing. It's in the grassroots stage of growing over there," Lavarnway said. "You're going to allow exposure, allow funds to grow, allow fields to be built, and you're going to have more Israeli kids who want to play baseball. And we are hoping for that to happen all around the world."
The later rounds are for bragging rights, and for high-quality baseball. These first-round pools are for fun, and for guys to play themselves into job opportunities, and for, perhaps, a Cinderella team—like the Dutch in 2013—to emerge. And for us to have baseball back! Who could hate this?