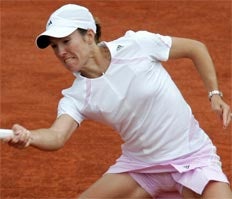 Justine Henin-Hardenne beat Svetlana Kuznetsova 6-4, 6-4 this morning to win her third Freedom French Open, and her second in a row. It is the fifth Grand Slam win of her career.
She also reached the final of the Australian Open earlier this year, and quit while in the middle of getting pounded by Amélie Mauresmo. And she took a beating in the press for it, too, so hey, a little bit of redemption for her. Hopefully, she found Bud Collins somewhere and said something mean to him in French.
Tomorrow morning, meanwhile, is the men's final, pitting world #1 Roger Federer against #2 Rafael Nadal, or, as I like to call it, the only men's tennis matchup really worth watching. Nadal's won 16 titles in his career, 12 of them on clay surfaces. And three of his last four victories in finals have come against Roger Federer. He's 5-1 against Federer all-time, which is incredible. And even more amazing, he's done it all in capri pants.
Henin-Hardenne took the queasy way out [Boston.com]
Henin-Hardenne Wins 3rd French Open Title [Washington Post]
No. 1 vs. No. 2 When Federer and Nadal Meet [NY Times]