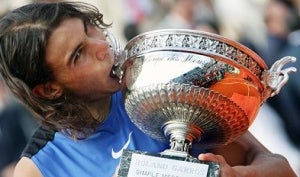 Rafael Nadal further cemented his place as the world's greatest athlete in capri pants by beating Roger Federer in the finals of the French Open this morning, 1-6, 6-1, 6-4, 7-6 (4). And in celebration, not settling for a simple kiss of the French Open trophy, he attempted to perform fellatio on it. He's an affectiontae man, Rafael Nadal.
I was a little disappointed. I wanted five sets, and honestly, I wanted Federer to win. It looked like he was completely dead halfway through the fourth set, but he fought back, which is rare for a Swiss guy. He forced a tiebreaker, but he just never seemed to find his groove. He had a lot of unforced errors, and Nadal, of course, was great. But I just can't support a guy who wears his sister's pants. I'm sorry. It bothers me.
It's 60 straight wins on clay for Rafa, and he's now 6-1 all-time against Federer, both of which are freakin' mind-boggling. And we'll see at Wimbledon and the U.S. Open if he can translate that level of play to any other surface.
Nadal topples Federer for French Open crown [ontennis.com]