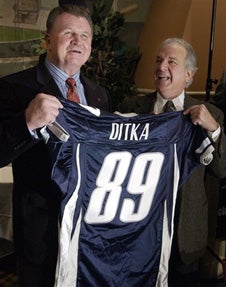 Somewhere deep down, Mike Ditka has to be wondering about the irony of it all. In 20 short years he's gone from Baddest Coach on the Planet to someone who actually cares about the outcome of the Arena Bowl. Sad, really. It was in 1986, of course, when Ditka led the Bears to victory in Super Bowl XX, chewing furiously on the same piece of gum for almost the entire season and swatting away any punks who tried to cross him. In 2006 he completed the circle as dottering part-owner of the Chicago Rush, which beat the Orlando Predators 69-61 in Arena Bowl XX. Said Ditka:
I can't think of a better way to celebrate that Super Bowl anniversary. It's really incredible the way coach [Mike] Hohensee turned this team around after adding Bobby Sippio.
Excuse us, but we were pretty sure we'd go our entire lifetime without hearing Mike Ditka gush about a player named Bobby Sippio. Other exciting Arena Bowl highlights:
• In a game in which the teams combined for 130 points, they named a "top defensive player." It was former State University of West Georgia defensive back Dennison Robinson.
• In a pregame ceremony at the Thomas and Mack Center in Las Vegas, the United States Army officially enlisted a group of local youngsters.
• The Predators earlier this season gave up 87 points in a loss to Dallas, which is more points than 15 NBA teams averaged this season.
Rush, D'Orazio Complete Title Match [Chicago Sun-Times]
Sublime Mingles With Ridiculous [Las Vegas Review-Journal]