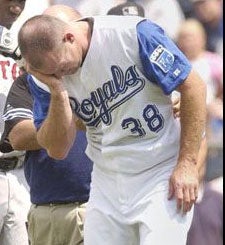 Well, it's been a fun weekend around these parts, with our sudden popularity on Kansas City talk radio and our father's concerned, confused "The man on the radio says you said Albert Pujols did steroids. Did you say that, Will?" (No, Dad, we didn't. What did we tell you about sports talk radio, Dad?)
Anyway, we've been digging though the angry emails — our favorite was "I hope you get the clap from your cheating wives" — and we're not sure what much more we can tell you here. If our source is wrong and Mihlfeld isn't named in the document, we won't use the source again and you can feel free not to listen to us anytime we quote someone on a steroid name. (Despite the now-established Milhlfeld-Grimsley connection.) If our source is right and Milhfeld is in the document, it's anything but proof that he's ever supplied anyone with HGH or anything like that. It just means he's in the document.
There has been talk of a rush to judgment, and we suppose that's fair. But no matter what, these names will come out — all of them — and we will all know just how deep everything goes. It's just a matter of time.
KC Trainer Responds, Denies Affidavit Cameo [Deadspin]
Rushing To Judgment [Bleed Cubbie Blue]
Grimsley's MLB Diary [MLB.com]