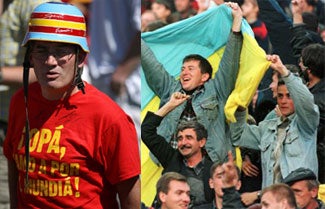 Anybody else having difficulty not making "Insane In The Ukraine ... Insane in the brain!" comments? The song's just stuck in our head.
Anyway, today's early morning live blog features Spain taking on Ukraine, the first of our two final openers today. Enjoy the six different Ukrainian players named Andriy. And we're not kidding.
So. Once again, it's The Mighty MJD with you this morning, so email him with your thoughts, and follow along. Enjoy ... it's Spain-Ukraine! Yeah!
————————————————————————————————-
90:00: Enjoy your day.
90:00: And we're done. Can't help but feel a little sympathy for Ukraine, which is an independent nation-state and not a region. But again, wins against Tunisia and Saudi Arabia, which are certainly possible, get them into the knockout round.
90:00: Two minutes of stoppage time... or, as I like to call it, prolonging the Ukranian misery.
90:00: One more chance for Shevchenko... he was open in the box, but the shot was blocked. Some nice moves, though.
89:36: Spanish keeper badly misplays a ball, giving Ukraine a wide open goal, but the Spanish defense recovers and knocks it away from him. I know it's been a boring day for Casillas, but I think he took things a step too far by actually wheeling a tanning bed onto the pitch. That wasn't necessary.
87:51: Nice low shot in by David Albelda. Save made, and it was a good one.
86:21: Raul very nearly gets his foot to another goal... pass was just a touch too heavy, and the keeper got to it first. Tommy Smyth says that Spain is really trying to get Raul a goal, which just seems cruel.
84:50: Is it possible to run up the score in soccer? Because I think Spain is trying. I guess the good news for Ukraine is that they didn't have to spend the day actually in Ukraine.
80:50: And it's 4-0. Fernando Torres finished it, but the build-up was truly a thing of beauty. Great ball played in by Puyol, after he won the ball twice, and slid in a perfect header. Just spectacular. Check that one out on SportsCenter later if you can. Rough day for the Ukraine.
77:53: Cesc Fabregas checks into the game for some mop-up time.
75:12: The Spanish goalkeeper forced to make a save on the free kick. His technique was flawless. He put his bookmark in his book, set down his scotch and soda, picked up the ball, made love to a middle-aged Ukranian woman, and then booted the ball down the field.
74:29: Ramos, going after a loose ball, absolutely runs through a Ukranian guy, and then gives the ref the Gary Payton "I know I fouled him, but do you know who I am?" look.
73:37: Raul sets up Sergio Ramos for a shot from a tight angle, and he drills it off the side of the net.
72:22: Ohh, nice look for Ukraine. A guy named Rebrov gets a wide open clean shot, about 8 feet away... and he knocks it over the bar by about 3 feet.
71:58: Yaaaaaawn.
68:00: The Ukraine's entire strategy appears to be throwing long balls at Shevchenko and hoping that Spain forgets to jump and put him offsides. It has yet to happen.
67:34: A long cross gets Raul a header on goal. Another close call.
66:25: The Spanish goalkeeper has left the field, showered, put on a suit, and returned to goal with a lawn chair and a book. I think it's a Grisham.
64:19: It's headed out, and Senna blasted a beautiful shot into the goal, but the whistle had blown for a foul against Spain... sort of unfortunate, that shot was phenomenal.
63:28: Free kick here for Spain... and it's deflected wide. Corner for Spain. Their sixth. Ukraine has zero.
62:33: Raul has a ball at his feet in the box, but he dummied it, for some reason. He would've had a great shot at goal. Torres, who Raul wanted it to go to, was as surprised as anyone else by his decision.
60:27: A good look for Raul, but the Ukranian keeper gets the save. A quick counter attack for Ukraine... and a shot goes JUST wide. Really, they almost scored there. I'm not kidding. Andriy Voronin on the shot.
58:18: Much midfield play these last few minutes. I think Spain may be calling off the dogs here.
54:27: David Villa is coming off... and with a 3-0 lead, Spain brings in their leading scorer of all-time, Raul. That doesn't seem quite fair. Xavi Alonso is out, too.
53:10: Not that I'm wishing it upon the feeble Ukranians, but... you know, 4-0 would make me feel a little bit better about the United States' plight.
51:00: We were very very close to 4-0. Luis Garcia controlled the ball for what seemed like an hour in the box, with Ukranians all around him. And he got it to a wide open Villa in front of the net, but he pounded it off the goalie's chins.
48:29: Man, that call was terrible. If the Ukranian team wanted to turn into the Seattle Seahawks for a while, I couldn't blame them.
47:30: It's in. 3-0. The keeper guessed right, but a perfect shot goes in off his hands, and off the post, and in.
47:15: It's David Villa taking it.
46:18: Spain counters... red card in the box. Fernando Torres had a breakaway, and he was taken down. Tommy Smyth is questioning the call, and compared to some of the things that haven't been called... I dunno, that one seems weak. Here's he penalty, the first one of the World Cup...
45:52: Hey, good start for the Ukraine. They're pushing ahead a little bit here to open the half.
45:01: Today's ref if Swiss. There can be no doubting his neutrality.
45:00: Hey, no stoppage time. And we're at the half. If this doesn't get better, the second half is going to turn into a live comparison of Ukranian and Spanish internet pornography. I'll keep you posted.
43:44: David Villa... DAVID VILLA... oh, he just misses. A stop by the goalie after a pretty clear shot by Villa. I don't think the keeper even knew he saved it... the ball hit him, and he was still looking for it.
42:02: Hey, a scoring chance for the Ukraine. A ridiculously poor header from Spain (that I believe they learned from Oguchi Onyewu), gives Shevchenko a shot. It was stopped by the goalie, but whistled offside anyway.
41:17: Oh, man. Shep Messing is commentating the Saudi/Tunisia game. I guarantee you that the Deadspin liveblog will be a better option than the actual viewing of the game.
39:00: Another sustained Ukranian possession... though it wasn't threatening in any sort of way. Eventually, they just kick it out of bounds because they were tired of having the ball for so long.
37:17: I can't tell you how easy this game seems for Spain. It doesn't seem like a lot of people are mentioning them as real cup contenders, but... I dunno. It seems like they're at that level to me.
35:40: Spanish guy blocks a long attempted Ukranian pass with his face. I think the Ukraine should just keep trying to kick the ball into the faces of the Spanish, and they should get a goal every time they do it successfully.
34:48: A Spanish guy in a suit has a really hot wife.
33:30: They play it to the near post, and it goes high over the bar.
32:53: Corner from Xabi. Out off a Ukranian noggin. Corner now from the other side. That's five today.
32:17: Man, I feel bad for whatever poor son of a bitch Will conned into doing the Saudi Arabia/Tunisia game at 11:55. I hope he's giving them hazard pay.
31:56: SHOT ON GOAL! SHOT ON GOAL! Handled easily by the Spanish keeper. Of course it was.
29:36: The ball's been on Spain's side of the field for almost a minute here. Huge moral victory for the Ukraine.
28:40: Hey, a cross for the Ukranian team. But safely headed away. I believe they still have 0 shots on goal. I don't know if they've even considered it.
26:55: The Spanish goalie just sent me a text message. "I M SO BORED BUT MAN SHEVCHENKO IS HOTTTT IN PERSON."
25:56: Constant pressure. Fernando Torres and David Villa work it around the box at their leisure, but unable to put another one home. For now.
24:42: They're just pouring it on here. If it's not 3-0 at the half, I'll be very surprised.
22:22: A shot of some Spanish fans, where one big guy with a bass drum was screaming at someone off camera, and his friends were trying to restrain him. It was as if they were saying, "What are you going to do, taunt a Ukranian? His life spent in constant depression isn't enough for you? Let him have his vodka for lunch and leave him alone."
20:41: The onslaught just continues. I think the Spanish goalkeeper is actually napping.
18:20: Yeah, that's not a good way for the Ukraine to open up their first ever World Cup. The Ukraine is an even sadder place this morning.
16:53: Goal. David Villa on the free kick, just blasted it off someone's head in the Ukranian wall.. Not a whole lot of suspense here...
16:06: Ouch. Yellow card on one of the non-Shevchenko Ukranian guys, who came sliding in with his cleats up, Ty Cobb-style. Someone should punch him in his ugly Ukranian face. Free kick.
12:46: GOOOOOAL! A header from Xavi Alonso on the corner bounces off the goalie's hand and slips into the side of the goal. 1-0 Spain.
12:29: Nice long shot off the foot of Senna, forcing the goalie to make a nice save. Corner kick.
11:33: Oh, hey... Shevchenko was the guy in that SportsCenter commercial with Scott Van Pelt, where he's trying to get him to call American football soccer... I wasn't aware.
10:45: I don't think the Ukraine has had the ball for longer than 10 seconds here. The Spanish can be selfish.
7:44: Luis Garcia takes a shot from a tight angle, and sends it wide of the net.
7:08: The Spanish team keeps threatening... they pass well. Fluidity. They're fun.
4:46: A good effort on a free kick sees a ball bounce off of a Ukrainian head in the box. The Spanish counter, and Fernando Torres made a nice run into the box, to be denied there at the last second. Corner kick. Nothing doing.
4:00: It's 95 degrees there today, which makes the warm beer thing all the more confusing to me.
2:50: Some nifty passing gets the Spaniards a shot on goal, but Xavi rolls it wide of the goal. A poor effort there, but a good chance.
1:54: Much midfield play here thus far...
0:10: We're underway... Ukraine is sporting the all-yellow uniforms, with these little blue spikey stripes coming in from all sides. Those are nice.
0:00: Hey, this commercial with the two kids playing soccer, and picking their teams, and then the starts come running out to take the field... why does that one kid take Cisse first? And when he does, why doesn't the other kid just start laughing at him?
0:00: Commentators with accents, baby. That's what I'm talking about.
0:00: Fuckin' waffles are awesome.
0:00: It'll be Ukraine's first appearance in the World Cup, and they're led by Andriy Shevchenko, who just sold his soul and any remaining goodness in his body to Chelsea. Fernando Torres of Spain describes the Ukraine as "Shevchenko plus 10 others." But hey, all they have to do is figure out a way to finish ahead of Tunisia and Saudi Arabia, and they're advancing.
0:00: Here's what you need to know for this one on the Spanish side. Well, they're pretty manly at just about every position. I'm a fan of Carles Puyol, who's hair looks kind of like Dirk Nowitzki's, if Dirk hadn't bathed in three or four months. All but five dudes on their team play in the vaunted Spanish League, but there are also some EPL guys scattered in there, including Xabi Alonso, Cesc Fabregas, and Jose Antonio Reyes.