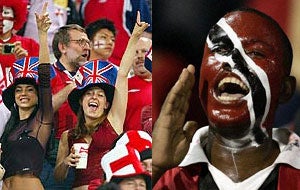 Hey, everybody, it's England! America, Sr.! This is the first weekday game for the Brits, but despite an opening victory over Paraguay that was much-maligned, a win here sends them into the Round of 16. Will we see that Rooney fellow? Will Crouch do the robot? Is Beckham wearing a sarong? All kinds of questions!
This time, it's England vs. Trinidad & Tobago, and as a wise man said: Love Trinidad, hate Tobago! Anything less than an easy victory will send the Brit tabs into a tizzy, but T&T — oy! oy! oy! — has plenty to play for itself; a draw in the first round has the islanders still in the running for the Round of 16.
Your live blogger is James Tyler, one of the folks behind Lingering Bursitis and, as he puts it, a "Limey." So you know who you're dealing with. Follow along in the comments, email us with observations and hey, have fun out there. Bully!
——————————————————————-
FULL-TIME — England come away with a dicey 2-0 win, thanks to goals from my Liverpool lads Crouchy and Gerrard.. Their pressure finally paid off as T&T tired, but they'll need to be a lot sharper and more clinical if they are to have even the remotest chance of competing for their first World Cup since 1966.
There are many better teams still in the hunt, and many teams playing extremely well. We should not rest on this one, but for today, the match is done, we are victorious, and given my limey DNA, I must go out now and get blind drunk and sing incoherently in the Brooklyn streets. At 2pm. On a thursday. Thanks for keeping me company, and on we go to Sweden/Paraguay at 3pm.
0.90+2 — Stern John's close-range shot bundles into the net, but the whistle blows for a foul and the goal doesn't count. The English contingent are singing proud, and we have booked our trip into the second round. Final Score: England 2, Trinidad & Tobago 0.
0.90+1 — COR BLIMEY!!! A tired T&T gives up a shot to Gerrard from distance, and he's too dangerous to leave
alone for long. His long-range shot from the right side flies past a sprawling Hislop into the net, giving England a 2-0 lead and perhaps unfairly so.
0.89 — England are playing rather effective keep-away to hopefully close out another lackluster win.
0.84 — Almost immediately, T&T surge ahead with a promising attack right from the kick-off, which is broken up resulting in a corner. Yorke sends it menacingly into the heart of the box, but headed safely away. The crowd are jubilant, and in full song. Only 5 or so minutes left, maybe 2 of injury time, but England deserved something for their efforts today and superior possession.
To be fair to Trinidad & Tobago, they have played well enough to earn a point, but football is the kind of sport where you can't hold on against that pressure. Unfortunately, their game plan was clear from the beginning — defend, defend, defend, work on the counter-attack — but England's possession and shot count really deserved that goal. I hope we can hang on.
0.82 — GET IN THERE YOU OVERSIZED BEAUTY!!!!!!!!!!!!!!! Crouchaldinho finally lives up to the name, rising above his marker at the 6-yard box to head through Hislop's hands. Inch-perfect cross from Beckham under minimal pressure, and the diminutive Sancho could do nothing to stop his header. Not wishing to be too crude, but that just gave me a monumental erection.
0.79 — Man of the Match so far, apparently is one of these gentlemen: Terry, Ashley Cole, Yorke or Lawrence. Naturally, I reach for my T-Mobile phone and vote for myself. I predict a landslide. Lampard blasts wide again from the right-hand side of the box, and my heart is beating faster than that one time I shook hands with Joshua Jackson.
0.77 — It's shaping up to be one of those days. Half chances and near misses are the defining characteristics of England right now, while T&T are content to absorb the pressure and create opportunities on the quick counter-attack. Balboa thoughtfully mentions that England are "finally starting to put it together", something that would be useful if the game were 190 minutes long.
0.76 — The game has opened up like little Lohan's panties. It's end-to-end stuff at the moment, as England surge forward before a breakaway from Glen is scrambled away at the 6-yard line before he could shoot. Almost immediately at the other end, Lampard finds space alone in front of goal, but hits it softly at Hislop. Someone pass me the Tums!
0.74 — G-d bless his little cotton socks. Rooney is pressing, but his control is letting him down. England make their final substitution — Joe Cole off, Downing in. Another T&T foul, another Beckham free kick, another simple clearance by Tobago.
0.71 — Blimey, a quick counter-attack from the speedy Cornell Glen breaks down thanks to another great tackle by John Terry.
0.70 — A cross finally finds Crouch in the box, head and shoulders above his marker, and he puts the header wide over the top. It's not difficult lads : if you want to score, try aiming at the rectangular space with a net behind it.
0.69 — While they spend most of their time defending, Trinidad is finding space on the counter-attack as England push more and more men ahead trying to get that goal. Lampard has been an absolute ghost for huge chunks of this game, and it's worth remembering that Terry saved us from going 1-0 down by mere inches.
0.67 — The possession gap is slowly widening in our favour, but it's harmless possession. There is a certain impotence in the final third of the field that is troubling, considering we've only managed one goal in the World Cup [an own goal, no less], and our progress will not be this easy for long.
0.64 — Joe Cole needs to pass more. He is talented, and definitely good on the ball, but he's trying to beat all 11 players at once, dribbling aimlessly into two or three defenders without making a pass. Crouchaldinho has a clear height advantage, and I worry that they haven't figured out just how to use that height [see: Jan Koller vs. Czech Republic]. Tactics aren't that hard, are they?
0.62 — The wunderkind is causing havoc around the area with his pace, but the crosses from Lennon, Beckham and Cole need to be a lot sharper. At half-time, they should have been watching highlights of Ecuador's Mendez on how it's done.
0.58 — Rooney's presence has given a modicum of life to the England attack, as Trinidad commit more and more fouls in their half. It's worth noting that T&T have 5 yellow cards [including Hislop], and if we were a touch smarter, we'd be trying to use that to our advantage when pushing forward. This ref is a little card-happy, and Soca could easily find themselves down to 10 any minute.
Lennon also makes an appearance on the right replacing Carragher, given his tendency to get involved in attacks and overlapping Beckham to provide the cross into the box.
0.55 — Enter Rooney! The crowd goes mental, as he gives his thighs one last rub before taking Owen's place. Owen had a chance to redeem himself just a minute ago, as Beckham's long free kick found him unmarked at the far post, but his sharp header edged just wide. Maybe Rooney can wake the Lions up, as Eriksson clearly didn't during his half-time pep talk.
0.52 — Sleepiness has given way to sloppyness. England are creaming the Soca in possession [65-35], but doing nothing with it. Instead of any kind of creativity, they're doing the usual - impressive balls from sideline to sideline, but no penetration and no final pass. Trinidad is finding a touch of space in the midfield, and the massive-headed Dwight Yorke is finally finding the pace of the game. I am a touch concerned. Also, England haven't scored a second-half goal in a World Cup under Sven Goran Eriksson.
0.50 — The English fans are absolutely bloody lifeless right now, an observation that is also true of Beckham, Crouch, and Owen. Useless so far, and Rooney's entrance into Germany 2006 must surely be only minutes away.
HALF TIME — To save you all the agony and woe of listening to Rece Davis, Loudy Foudy and Wynalda, here are a couple more items to numb the pain. Shep Messing is apparently a card-carrying member of the Jewish Sports Hall of Fame, although his appearance in the 1987 movie "Hotshot" should have kept him out, at least until the third ballot.
O'Brien and Balboa have not been as awful as in previous matches, but they still very much remind me of child actors in a horror film. They know their lines, they have a vague idea of how to deliver them, but they're absolutely bloody clueless when it comes to understanding what they mean. It's bound to get more painful, but the continuous stream of lager is definitely helping.
Finally, a video from the past. England's 1990 World Cup team had the [mis]fortune of recording a World Cup song with New Order, and its synth-heavy brilliance [and rapping from Caribbean-born John Barnes] comes close to matching that of the Superbowl Shuffle. There is a video, too — look out for the English mullet on No. 8 Chris Waddle, as well as several devastating close-ups of some of the ugliest men to set foot on a football pitch.
HALF TIME — England 0, Trinidad & Tobago 0. Yawns all round so far. England look like a rather toothless force so far, offering few true threats except for Crouch's gaffe and several weak shots from distance straight into Hislop's arms. The clearest opportunity came for Trinidad right before the whistle, and that will give the lads plenty to chew on in the dressing room. If and when England do make it out of this group without difficulty, one wonders how well they'd perform against either Germany or Ecuador in the second round.
0.45+1 — Crikey. England avoid a shocker as Robinson's mistake in coming out to a cross gives Stern John a free header towards goal, that John Terry scrambles off the line in the nick of time. Eriksson's face is red and swelling, and I fear its imminent explosion as a comfortable but timid first half performance by his English side.
0.43 — F*ck. Crouchaldinho finds himself wide open in the middle of the box, only to welly a horrendous volley well wide of the net. He had maybe a full 6 or 7 seconds to control it and shoot, but opts for the highlight shot and ends up looking like a turd on the Thanksgiving dinner table.
0.40 — This game is at least better than France/Switzerland, but only just. Trinidad are playing the Screech to England's Zack, cock-blocking him time and time again with their persistence and presence. Aside from one lone chance, T&T are quite happy to sit back and absorb the pressure "like a Caribbean sponge" [The BBC website with that rather surprising comment].
0.32 — Frustration abounds right now, as England pile forward again and again with nothing to show for it. Rooney was shown briefly warming up, and you wonder whether Eriksson is feeling the pressure as well. Trinidad's game plan has been effective thus far: stand in the way, and keep 10 in the box at all times. Safety in numbers. Lampard gets another clear shot from 35 yards, which again flies well wide of the post.
0.25 — There is an urgent need for pictures of the fairer sex, and with this lull in the action, I shall provide. Crouch, for all his alien "beauty", has managed to find himself quite a piece of top-drawer totty in Abigail Clancy, as have several of England's players. [Possibly NSFW, but then again, I don't know where you all work.] To balance things out, for the ladies, I should mention that Shep Messing did pose nude for Playgirl back in the 1970s. I know, I know, hold your breath for that one.
0.22 — The pressure continued at Trinidad's end, but they are holding up so far. Several Beckham free-kicks have resulted in nothing, and Dwight Yorke has managed only three touches of the ball so far, by my count.
0.17 — A heavy shirt-tug from Soca D Theo Archibald gets him a yellow card, and apparently a $4100 fine. Seems to be in line with the price of a ticket to these bleedin' matches these days.
0.16 — Great chance for Crouchy. A dangerous cross by J. Cole from the left finds Crouch at the backpost, who stretches out his elastic leg and forces a low save to Hislop's left. Trinidad's main problem so far seems to be that they have a guy marking Crouch who isn't normally a defender — one would think these sort of complete mismatches don't happen at this level.
0.12 — More half-chances for England, as they test Hislop and the Soca backline early and often. Trinidad can't seem to string more than three or four passes together, and England's midfield is enjoying the early dominance. Crouchaldinho gets called for dangerous play in the box, but you can sense his height will be a problem.
0.10 — The English are pouring on the pressure, and it's becoming apparent quite early on that Trinidad are favouring the unusual 7-2-1 formation. Their box is constantly full of red shirts holding back the white [and let's be honest, who doesn't have that problem these days?], and England continue to turn the screws. A Dwight Yorke free kick at the other end is harmless, and a quick counter-attack gives us the first corner of the game.
0.06 — The first real chance of the game, and what a chance it was. Lampard had space in midfield, his powerful shot was parried by Hislop right into Owen's path, but he couldn't control it and the ball bounced off his knee out of play for a goal kick. England are definitely enjoying the lion's share of possession and control so far.
0.03 — England have started brightly. As usual, they look fairly comfortable on the ball, and the [very] early going suggests Trinidad will very much sit back and let England come to them. Carragher tried an early shot from 35 yards out on the right side, which made for a rather soft save in Hislop's giant hands. A foul in midfield gives England and Beckham their first set piece, which is easily cleared away.
0.01 — Each Trinidad player has apparently been offered a giant barrel of rum if they perform well today. And we thought the NFL and MLB had substance abuse issues...
0.00 — Oh, glory be. An early christmas gift in the form of Dave O'Brien and Marcelo "I love the 80s" Balboa in the commentary box. I'll try my hardest to ignore their inane banter, as they really can't get much worse at describing live events to people. [Evidence here..] Need I quickly mention this is O'Brien's first ever attempts to be a soccer commentator? As if it were not obvious enough.
LINEUPS —
England lineup > Robinson in goal, Carragher, Terry, Ferdinand and Ashley Cole across the back from right-to-left, Beckham, Lampard, Gerrard and Joe Cole inhabiting the midfield, and Owen and Crouch up front.
Trinidad/Tobago > Hislop 'twixt the sticks, Edwards, Sancho, Lawrence, Gray, Birchall, Whitley, Yorke, Theobald, Stern John and Jones. [They've been keeping their formation under wraps, so I have no clue exactly what they'll be running]
PRE-GAME — It's a liquid lunchtime here in the Tyler household, as I'm prepared for what should be a solid encounter between my beloved England and Trinidad and Tobago. In a true display of cultural sensitivity, ESPN just made a Jamaican bobsled team reference. Wonderful. Also, I'll keep the Nuremberg observations to a minimum.
And for quick team news: Limey wunderkind Wayne Rooney has been cleared to play and declared fit by a team of "independent medical experts" [whatever they are, I'm thinking they're something akin to David Blaine's support team during the bubble debacle], but he will begin today firmly riding the pine. However, Gary Neville, the Manchester Utd right-back [and my mortal enemy, as a Liverpool nut] picked up a calf injury in the team's final warm-up session, and will be replaced by Liverpool defender Jamie Carragher. I couldn't be happier. Aside from that, the team looks to be retaining its original shape, and we'll hope for heroics from the lanky git Crouchaldinho. A goal or two from him would warrant many domo arrigatos.
Trinidad and Tobago must make do without Avery John, red-carded during the opening match with Sweden, but all eyes will surely fall on Dwight Yorke, former Man Utd golden boy and the tabloids' wet dream. He is the Jordan of the Soca Warriors, having emerged from retirement to guide this push to the World Cup. He, along with Stern John and goalie hero Shaka Hislop, will look to test England and steal some more points from stronger opposition.