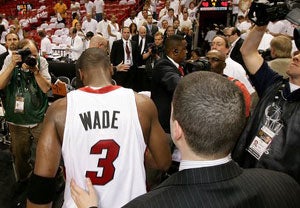 After staying up too late watching basketball, we woke up this morning ready to survey the NBA world's presumed newfound excitement over the NBA Finals, which showed some signs of life last evening. But that's not what we found.
• True Hoop: "It's not at all clear to me that this is a replicable victory. It didn't look like the Heat solved anything about Dallas. It looked like Dwyane Wade sprouted wings. Maybe that can happen three more times."
• Free Darko: " If Bream and Hubie were laying it on a bit thick when it came to the emotional pull of the Heat, it probably came out of a need to prop them up and make sure this win counted double in the KEEP WATCHING department. Keep the heart tuned in and eager even if the head remains skeptical."
In other words: The Heat sneaked out one, by that's probably it. This may very well be true, but we have no problem with remaining in the KEEP WATCHING camp. A sweep by the Mavericks may support the rather clear change in the NBA architecture, but that doesn't it mean it's particularly enjoyable. Sure, it is just one game ... but it was a game the Heat had to have. Shouldn't we credit them for bringing it when it was of the utmost importance? Or should we blame them for saving it until then? Probably both, we suppose. Either way ... whew. We have something to watch again.
Poetical Don't Last [Free Darko]
Oh, Dwyane Wade [True Hoop]
Dwyane Wade: Kind Of Fun To Watch [Deadspin]
(By the way, Free Darko's got themselves a tasty, nasty little JJ Redick rumor.)