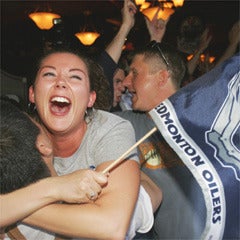 OK, you're right; we've been somewhat neglecting our hockey friends. It's just that it's really hard to get fired up about an NHL title in a city where ice had to be shipped in by train until 1941. (Yes, we know they were once the Hartford Whalers. And Elizabeth Taylor was once hot). But we promise we'll watch from here on out, and while we wait for the next horrific Oilers shellacking exciting Finals matchup, here are some tidbits to stimulate your appetite.
• Puck Update postulates that one reason the Oilers are trailing is that they overpractice behind-the-back passes. We have to admit that we never would have thought of that in a million years; and are even somewhat surprised that such a manuever is possible. Puck Update also gives us this amusing public service announcement, which we think somehow might be relevant to hockey.
• Off Wing Opinion reminds us that, despite the latest round of testing indicating that the NHL is totally clean on the banned substances front, there are those who aren't buying the results. One is World Anti-Doping Agency head Dick Pound.
• It has been mentioned in several blogs, but cannot be stressed enough in our opinion: One of the Stanley Cup Finals refs is named Mr. Magoo. It's actually spelled McGeough, but pronounced the same as the nearly-sightless cartoon character. Come on, Oilers fans! Your're down 3-1, and one of the officials is named Mr. Magoo! If you can't work with that, there's no hope for you.
• Have we mentioned that GoonBlog has one of our favorite logos of all time? No? Well, remind us to do that sometime.
• Hey, the NHL draft is only 10 days from now, as the folks at The Ice Block kindly remind us. They have a pretty good rundown of draft articles over there, so you hosers should probably check it out. We probably don't have to point out that the St. Louis Blues have the No. 1 pick.
• So, Game 5, Edmonton at Carolina, NBC, 8 p.m. eastern, tonight. It's impossible not to like hockey right now (unless you play for the Danbury Thrashers, that is). Anyway, there'll be more scoring than France-Switzerland, we're pretty sure.