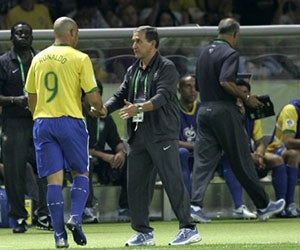 David Hirshey will write regularly during the World Cup.
Watching Brazil yesterday brought to mind an old joke. A bunch of comics sitting around in a steam room, comparing what Deadspin readers are inclined to compare in steam rooms. One of them boasts that no one can measure up to him, and another comic says "wanna bet?" He then goes up to the legendary Milton Berle and begs him to drop his towel to win the bet. Berle, famously with nothing to prove, demurs and, finally, the comic, exasperated, says, "C'mon, Miltie, just show enough to win." (Thank you, ladies and soccer germs, I'll be here all week. Drive home safely.)
But seriously, how much would you show if you were Brazil, and you had all but been awarded the trophy before a single bikini-clad fan had shouted Ole? How much would you have to prove? So yesterday's 1-0 win over Croatia may have looked underwhelming, but I don't think we saw everything that's under the towel.
Sure, the Kirstie Alley-like Ronaldo, who was once a legend in his own time and is now merely a legend in his lunch time, looked as swift and energetic as one of Bruce Arena's boys. Come to think of it, maybe he should have taken that $120 million dollar offer from the New York Red Bulls, or at least a case of Red Bull. Not since 1998, when a dehydrated Ronaldo collapsed from nervous exhaustion in the locker room just before the World Cup final and yet still took the field, has there been such a sorry sight in a canary-yellow jersey. When coach Carlos Alberto Parreira finally put an end to his misery in the 69th minute, the Brazilian fans booed the man who had delivered them the 2002 World Cup. Can you imagine Red Sox fans booing Big Papi or Curt Schilling?
"Ronaldo said he is not at his ideal fitness, so let's wait until he improves his performance and we see the player we know and love," said his teammate Kaka. Fair enough, but as far as I'm concerned, the guy played like caca. As for Kaka, he showed that your name is not your destiny. His scorcher from 20 yards was yet another reminder that Brazil has so many weapons in their cache that someone should call a UN inspector.
The most lethal, of course, is still Ronaldinho, even if yesterday he hardly brought his Joga Bonito, tantalizing with a flick here, a back heel there, but never wreaking the kind of havoc that made him World Player of the Year in 2004 and 2005. It is worth noting that the Brazilians historically do not play like "Bra-ziiiiiil!" in their opening matches, having squeaked by Scotland 2-1 in 1998 and Turkey in 2002. The bad news for the rest of the world is that they grow stronger as the tournament progresses, and by July 9, I'm confident the towel will be off, and we'll see every inch of their amazing talent.
(By the way, it appears our friend Mr. Hirshey has gone and got himself all famous-like.)