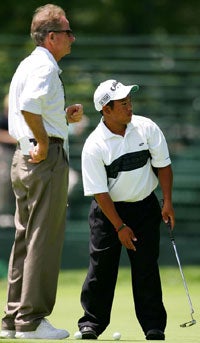 We've been trying to fire ourselves up for tomorrow's U.S. Open — the amount of morale-pumping required to maintain a face-painting level of excitement for televised golf is sometimes more than we can muster — but we just can't quite regurgitate the same Tiger vs. Phil stories. Sorry. We don't have it in us.
What can we regurgitate? How about the cute kid, the scrappy underdog, qualifying for the event in the first place? Sure, we can totally do that. Therefore, here's Tadd Fujikawa, a 15-year-old kid from Hawaiii will be teeing off tomorrow in the U.S. Open. His story is a fun, if rote, one; he only really devoted himself to golf four years ago — that is to say, when he was 11 — and he was born at a weight of one pound, 15 ounces. And we don't want to say he's short or anything, but the guy standing next to him in that picture? He's 5-foot-2.
Anyway, we're sure Tadd is only going to last two days, and then we'll probably never think about him again, so let's salute him now, in his moment of glory, until he inevitably careens recklessly down the spiral of post-adolescence and we're all posting "Drunk Tadd" Facebook pictures in a few years.
Fujikawa Has Been Fighting From The Start [The Journal News]
Hawaiian Teen Qualifies For The U.S. Open [Travel Golf]