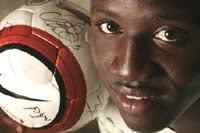 It may be of interest to our men and women soldiers serving overseas that war is just like the World Cup. So says U.S. forward Eddie Johnson, anyway. The U.S. team was at Ramstein Air Base outside Kaiserslautern, Germany, where they will play Italy on Saturday. Johnson stopped by on Wednesday to say hello to American troops stationed there; some on their way to or just returning from Iraq. Johnson:
It's like us in the World Cup. We're here for a war. We came here to battle, we came here to represent our country. ... Whenever you put your jersey on and you look at your crest and the national anthem's going on, and you're playing against a different country, it's like you do or die, it's survival of the (fittest) over 90-minutes plus. We're going to go out there and do whatever we've got to do, make tackles, do the things when the referee's not looking. ... to get three points.
Why are we thinking about General Custer right now?
One reason to cut Johnson some slack on this: he's only 22. He probably doesn't know that when the enemy's mad at you over in Iraq, they're not handing out red cards.
World Cup Like War, Johnson Says [MSNBC]