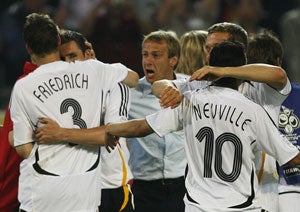 David Hirshey will write regularly during the World Cup.
OK, I admit it. Like my European ancestors before me, I underestimated the Germans, and now I'm paying the price. I find it difficult to sleep, to eat, to have any hope for the future. Ringing in my ears are yesterday's thunderous chants of "Deutschland, Deutschland," and all I can see are stiff-armed salutes and young German thugs brawling with riot police in the streets. The only thing missing was Leni Riefenstahl's highlight reel on "SportsCenter."
Let's face it: When the German boot comes down on the Polish throat, can anyone rest easy? But perhaps I'm overreacting. The Poles are not the Argentineans, or even the Dutch, the Germans' two most likely opponents in the next round. But for 90 minutes yesterday, I was dancing the polka as the Poles tied the Germans' lederhosen in knots. It almost looked as if Poles would escape, but if history tells us anything about the Germans, it's that they don't go gently into the guten nacht.
Just when you thought that the Polish-born German strike force of Klose and Podolski had blown one too many chances, and that the Soccer Gods in the guise of the crossbar had smiled down on the Poles, calamity struck. When the Polish defender Radoslaw Sobolewski was harshly sent off 15 minutes from the end, reducing the side to 10 men, the Germans went all 1936 on them. Even the goalkeeping heroics of Poland's Boruc were not enough to counter the revived German onslaught.
When Oliver Neuvile ran 20 yards to slide in a pinpoint cross from fellow substitute David Odonkor in stoppage time, causing German coach Juergen Klinsmann to do his gyrating Taylor Hicks imitation on the sidelines, ESPN's Eric Wynalda articulated what many people were thinking: "The Germans are good enough to win it all."
But I'm not handing them the Cup just yet. Let's not forget that they took 90 minutes to break down a pedestrian, albeit gritty Polish side, and that the victory was their first over a European team in the final stages of any tournament in a decade. I still think they're slow at the back and their midfield, judging by the way Ballack got into his teammates' faces and his constant gesticulating when passes went astray, is not exactly full of Gemutlichkeit.
That said, if they do beat Argentina or Holland, I'm packing up my family heirlooms and moving into a neighbors' attic until 2010.