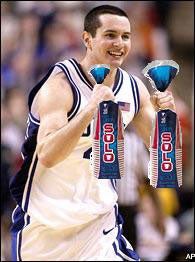 One of our favorite features of the late Oddjack was the Cultural Oddsmaker, editor A.J. Daulerio's strange odds on everything you wish you could bet on but can't. (We loved them so much, we even wrote one.) So we are very honored to return them to a wanting nation here at Deadspin, starting today.
It's A.J. Daulerio's Cultural Oddsmaker, exclusively here. Email him all your fan mail.
JJ Redick's Fall Out
Trying to stifle a cackle after former Duke guard JJ Redick was arrested for drunk driving is tough to do. But after the Schadenfreude party is over, there's still the requisite bone-picking that needs to be done. I've put on my special handicapping helmet — even though they're not required in Pennsylvania — to calculate the odds on JJ's DUI fallout.
After the jump, the odds.
Prop The Collar
Odds on still being top 10 NBA pick: 2/1
Odds on Redick going to rehab before NBA season: 20/1
Odds on Redick going to rehab in lifetime: 5/1
Odds on Redick going on lam with Dmitri Young while in rehab: 10/1
Odds on Redick falling in love with Dmitri Young while on lam: EVEN
Odds Kanye West blaring on Redick's iPod before drunken U-turn: 3/1
Odds James Blunt blaring on Redick's iPod before drunken U-turn: 1/5
Odds "glassy eyes" cops saw during arrest were all beer-induced: 25/1
Odds Redick loses lucrative shoe endorsement: 2/1
Odds Redick loses lucrative sports bra endorsement: 4/1
Fun With The Over Under
Draft position: 8
Number of times he's recited apology to "friends, family, Duke University, and fans" in bathroom mirror: 12
Number of times JJ Redick's been drunk in his life: 3 1/2
Number of times he's popped ...
... collar: 200
... 1/2 collar: 4
... Duke cheerleader's cherry: 1
... Duke lacrosse player's cherry: 3
Avg. PPG in NBA next season: .11