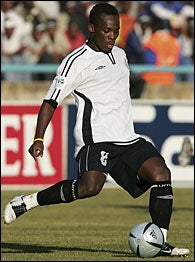 With their courageous defense and scorching balls, Ghana has provided hope and inspiration to a United States soccer team that can use all it can get. With their unlikely 2-0 drubbing of the Czech Republic, a US win over Italy today leaves Group F wide open.
Bruce Arena's pregame speech should pretty much write itself. Opportunity of a lifetime, sitting right there for you, it's your time, all that stuff. The script just couldn't be written better. Given the history of our nation, it doesn't seem right that any West African nation should be doing the United States any favors, but they have, and the US has to take advantage. An inspiring Ghanaian performance. Love those boys.
Safe to say that I've never been as excited for a soccer game as I am for this one. Not even Marcelo Balboa can dampen it. Word is that Deuce Dempsey will be in the starting line-up (but not Eddie Johnson). Feel free to use the comments here for game discussion, and/or culturally insensitive Italian jokes.
Preview: Italy vs. USA [World Cup Blog]
Words that Have Been Used to Describe Balls That Made Me Giggle [I Dislike Your Favorite Team]