I barely know what to say, so why not just let them say it:

"I thought Game 2 was probably the best baseball game I ever played in," Alex Bregman said. "I didn't think that would ever be topped; I thought that would be the best game I ever played in my career."
"Just when I thought I could describe Game 2 as my favorite game of all time," A.J. Hinch said, "I think Game 5 exceeded that and more."
"I can't tell you how many times I've said 'this is the craziest game of my life,'" Joe Musgrove said. "This was the craziest game of my life."
"This is the craziest atmosphere I've ever played in," George Springer said, "the craziest results. Just big hit after big hit, big pitch after big pitch, big play after big play."
"I feel like I'm going to have a heart attack out there," Carlos Correa said. And here's what that metaphorical infarction looked like on the field:
G/O Media may get a commission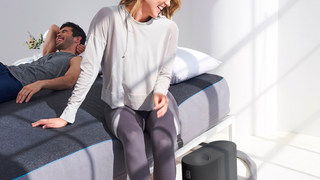 Eight Sleep Pod Cover
(Correa says he has no memory of that reaction.)
Correa called it "the best game ever, for sure," and even if that's subjective, the Astros' 13-12, 10-inning walkoff win over the Dodgers on Sunday was deeply, unrealistically weird, even by the standards of a series that featured all this insanity just four days earlier. But Game 5—maybe it's the baseballs, maybe it's these teams, probably it's both—was one for the record books. It was:
The second highest-scoring game in World Series history.

The highest-scoring extra-inning game in MLB playoff history.

At 5:17, the second longest game in World Series history.

The first playoff game in history where one team hit three game-tying home runs. (Here's a video of all the game-tying home runs in this World Series. The video is four-and-a-half minutes long.)

This:

This has been a dangerous World Series for complacency. No lead appears secure; no pitcher, especially in the bullpens but even including both teams' aces, can be counted upon for shutdown innings; not until the final out is it safe to go to sleep. (I really can't emphasize this point enough: This sucks for kids, and for getting them to like baseball. MLB is fucking up, and it wonders why its fanbase is aging faster than the population. This is exactly the sort of series that could make a young fan for life, and they're not able to watch it all because the most fun games are ending after midnight. I get that there are advertising and time zone considerations, but there is no reason a Sunday World Series game should be ending on a Monday.)
The culprit behind these wild lead changes and momentum swings is, of course, the home run. The 2017 World Series has now seen 22 dingers, the most of any World Series ever, and it's only been five games. This is a series to warm the hearts of Bob Prince ("all they need is a bloop and a blast") and Earl Weaver (the three-run home run, of which there were three last night, another postseason record). It's been entertaining, but it's also been exhausting, and I can't even imagine how draining it's been for the guys actually playing.
A.J. Hinch, your Astros are one game away from their first franchise championship. How do you follow up a game like that? "The first thing we're going to do," Hinch said, "is get some sleep."