What makes these videos of native Philadelphians Kobe Bryant and Dion Waiters going nuts the moment the Eagles officially defeated the Patriots to win their first Super Bowl is how relatable they are. Trust me.
Here's Kobe—yes his relationship with Philly is complicated and yes he's from Lower Merion but come on that's in the damn suburbs and besides his father balled out at La Salle U. back in the day so shut up and let him have this—trying like hell to contain himself while holding his young daughter. This is actually an impressive feat of restraint during an episode of true catharsis:
And here's Waiters just flat-out losing his shit and even crying over it:
G/O Media may get a commission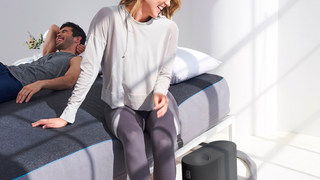 Eight Sleep Pod Cover
Sports are dumb and can often be trivial and inconsequential, but moments like these are why it's worth even bothering to care in the first place. Few emotions are more genuine than the delirious joy of a fan who finally finds water in the desert. Drink up, Philly.