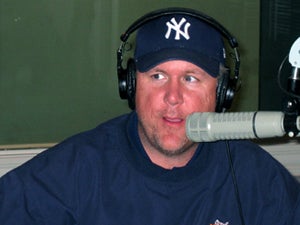 Make no mistake, we have a certain admiration for John Tournour (you may know him as radio host and columnist J.T. the Brick). He built one of the top syndicated sports talk radio shows out of virtually nothing; starting, in fact, as a caller to the Jim Rome Show, winning an on-air contest and moving up from there. For his first couple of years on the air he had to chase up his own ad revenue just to stay alive. But we also find the whole "talking smack" style of sports call-in radio somewhat exhausting; as guys like Rome, Tournour and Scott Ferrell dare listeners to call in to places like "the jungle" and "the brickhouse," only often to be horribly mauled. "Hey, I just wanted to discuss the advantages of pitching from the stretch ... why are you yelling at me?
Hey, we understand there's a market for that kind of radio. The Brick has a popular schtick, and a lot of people dig it. Just be sure that when you call in, though, you "bring it." If your call doesn't "have attitude," you'll be dumped. No wimps. And no fatties. Woooo! But we don't understand why J.T. doesn't practice what he preaches when it comes to interviews. A case in point came last Wednesday night, when The Brick talked with San Francisco Giant Steve Finley, in what can only be described the most interminable softball interview for a hardball player ever heard. Probing questions included "What does it feel like to be a member of the 300-300 club?" and "How did you improve your hitting?" Finley is a guy who went from a top season of 11 homers in four seasons with the Astros to 30 homers with the Padres (1996) and 36 with the Diamondbacks (2004), all during the height of the steroids era. He was also a teammate of Luis Gonzalez and is a teammate of Barry Bonds. Any thoughts on the steroid controversy, Steve? Or, you know, anything that would be considered insight?
If J.T. was going to "bring it," this was the interview in which to do it. But he didn't. If he were one of his own callers, he wouldn't have lasted a minute. Sports radio scares us sometimes.