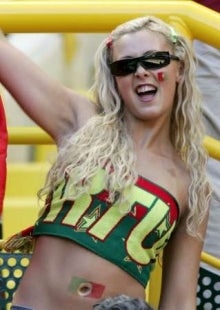 12:30, Speed: Formula One Racing. Grand Prix of Canada. Winner gets a lifetime supply of Celine Dion albums and Tim Horton Donuts.
1:00, TBS: MLB. Braves @ Devil Rays. The kind of matchup for which interleague play was created.
2:30, NBC: Tennis. Wimbledon Preview. Probably your best chance today at a Sharapova upskirt shot.
2:30, CBS: Champ Car World Series of Racing. Grand Prix of Cleveland. Which Grand Prix would you rather win? Cleveland or Canada?
3:00, ESPN: World Cup. Netherlands @ Portugal. Ooooh. This one should be pretty.
3:00, NBC: Action Sports. Dew Action Sports Tour, Panasonic Open, Day 2. Has Mountain Dew officially dropped the "Mountain" part? That is so extreme.
3:00, ABC: PGA Golf. Booz Allen Classic, Final Round. No better way to spend your Sunday Afternoon than with a whole lot of Booz.
3:00, Fox: NASCAR. Nextel Cup: Dodge/Save Mart 350. I think it's time for Dodge to step up and spring for the sole naming rights. That's just embarrassing.
4:00, Comedy Central: Movie. The Ladies Man. Hey baby... can I buy you a fish sandwich?
5:00, ESPN: Fishing. CITGO Bluegrass Brawl. The Bluegrass Brawl? Does this mean that they'll actually be fighting the fish? Because that doesn't seem fair.
5:00, CBS: Poker. Intercontinental Poker Championship. Well, at least Gabe Kaplan keeps finding work.