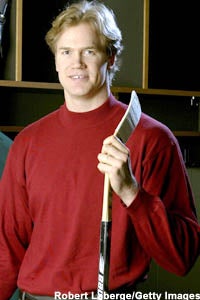 • The NHL entry draft went down yesterday, and it included a record 10 American players taken in the first round. This, of course, builds tremendous hope that one day the United States will have an international hockey team that will generate tremendous interest and hype, only to fall flat on their face in some grand international competition, just like the rest of the popular American sports.
• Seems like life should be good for Oilers defenseman Chris Pronger, right? He's a star. He plays for a team that just made a run to the Stanley Cup Finals. The city of Edmonton loves him. Just one little problem, though: It's still freakin' Edmonton. And I'm sure it's a fine place to live, but for whatever the reasons, his wife wants to get the hell out of there. Rumors indicate that her unhappiness in Edmonton is the impetus behind Pronger's trade request. I'm sure there will be no shortage of suitors.
• This is what we call a blockbuster: The Vancouver Canucks and Florida Panthers pulled off a trade that sends sucker-punching forward Todd Bertuzzi to Florida, and goalie Roberto Luongo to Vancouver. Vancouver needed a goalie and a change of address might do Bertuzzi some good, so hey, everyone wins. A couple of other players were included in the deal, but I don't think anyone noticed.
Record 10 Americans selected in first round [NHL.com]
Oilers GM Lowe says Pronger has requested trade [ESPN.com]
Bertuzzi, Luongo swap teams in major NHL trade [canada.com]