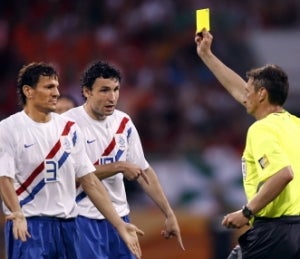 Well, if there wasn't a rivalry between Portugal and The Netherlands before, there certainly is now. In a bizarre game in which the referee went absolutely batshit crazy, 16 yellow cards and 4 reds were handed out, tying a World Cup record. The official went through three different ink pens with all the bookings, and it might just make sense for him to go ahead and have one of his hands surgically replaced by a yellow card.
JP Dellacamera used the words "shocking," and "awful," to describe the performance of Russian ref Valentin Ivanov, and I don't think players or fans on either side would disagree. He not only did he hand out some bizarre cards, but at the same time, somehow managed to lose complete control of the game. This game had to be an embarrassment for the entire FIFA organization.
All the shenanigans notwithstanding, it was an outstanding game. Scoring chances galore, intense, physical play, and a genuine dislike between the two teams made for a compelling contest. The Dutch side certainly had more than their share of good chances for a goal, but couldn't sneak one through, despite spending a significant portion of the second half with a man advantage. And I think Ruud Van Nistlerooy must've nailed the Dutch coach's wife, because there was no good reason for him to not get on the pitch today.
So Portugal advances to face England, and they might even be able to field an entire team of 11. Constinha and Deco are suspended, and Cristiano Ronaldo might be hurt.
Portugal 1-0 Netherlands [ESPN Soccernet]