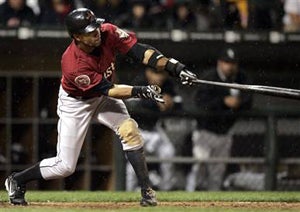 Notes from a day in baseball:
• 1. Free Willy. So, is Ozzie Guillen on double-secret probation now? According to Bud Selig and White Sox GM Ken Williams, he is. And as if the Baseball Gods were testing the manager's new restraints, Chicago erased an eight-run deficit against the Astros on Sunday, only to lose in 13 innings, 10-9. Houston avoided a three-game sweep and broke the White Sox's nine-game winning streak. Tadahito Iguchi tied it with two out in the ninth with a grand slam, but Willy Taveras' RBI single in the 13th won it for Houston.
• 2. Somewhere Up There, Harry Caray is Mispronouncing Justin Morneau. Not even the return of Derek Lee could roust the Cubs from hibernation, Chicago suffering an 8-1 loss to the Twins as Minnesota registered a three-game sweep. Brad Radke threw seven shutout innings, and the Twins won their 14th of the past 16. Minnesota still trails first-place Detroit by 11 games, though.
• 3. We're Not Worthy! Jose Reyes went 4-for-5 for the second straight day, and Carlos Beltran had a three-run home run (his 20th) as the Mets beat the Blue Jays 7-4. Reyes extended his hitting streak to 13 games and is hitting.561 over his past 57 at-bats.
• 4. He Just Keeps Rollin' Along. Combined, they've hit 731 career homers — take that, Barry Bonds — and individually they're pretty impressive as well. Ken Griffey Jr. hit career homer No. 549 and Adam Dunn, well ... you do the math ... also had a homer to lead the Reds over the Indians 4-2. Griffey passed Mike Schmidt for No. 11 on the all-time list.
• 5. Livan Sells Cartoon Balloons In Town. Livan Hernandez won for the first time in four starts, and Royce Clayton had a three-run double to lead the Nationals over the Orioles 9-5. Hernandez, by the way, credits a midnight showing of the movie Tourismo the night before the game as the inspiration for his win. Um, OK.
(Oh, and the Cardinals haven't played in a week. Fancy that.)