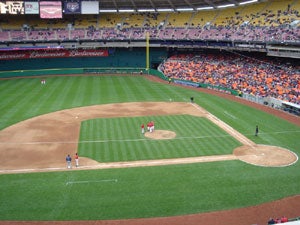 We are just one week away from our big Deadspin Field Trip to RFK Stadium, the opportunity for all Deadspin folks to gather, get drunk and scream Reggie Abercrombie's name. Obviously, since this is RFK, and this is the Marlins-Nationals game, tickets are still available.
A reminder on the all the details:
Date: Monday, July 3, 7:05 p.m.
Teams: Florida Marlins at Washington Nationals
Pitchers: According to ESPN, Scott Olsen vs. Shawn Hill.
Seats: We're all gonna be in Section 532. They're seven-dollar seats, and you can get 'em here.
There has been some talk of pre-game boozing activities, and potential car-pools from other areas, so we cordially invite you to discuss such matters and make such arrangement in the comments. But, yeah, it's still on.
Spend Your Fourth With Us [Deadspin]