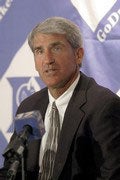 Yeah, see, it really hasn't been a good few months for Duke athletics. Jeez.
On Friday night, it appears athletic director Joe Alleva was injured in a boating accident when the boat he and his 27-year-old son were in crashed into some rocks. Alleva required 42 stitches but was back at work today.
The problem, of course, is that Alleva's son was driving the boat ... and has been charged with a JJ Redick. He has already been convicted of a DWI once before, back in 2002.
We repeat our previous proclamation: We have no issues with Duke University, the people who work there, the students, the alumni, any of it. And there are worse crimes than this, and we are glad Alleva and his son are OK. But still. Just reporting the facts, folks. And they are starting to pile up.