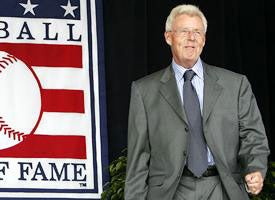 We join the rest of the sports world in sending every possible good vibe in the direction of Peter Gammons, who is in intensive care after suffering a brain aneurysm. Gammons was found slumped over in his car on Cape Cod and, after having surgery last night, is expected to be in that intensive care for at least 10 days.
No matter what your thoughts about ESPN or "Baseball Tonight" or anything along those lines, it's always been difficult not to like Peter Gammons. Our favorite anecdote, from today's Boston Globe, is that Gammons recently "worked an ESPN 'Sunday Night Baseball' game in Los Angeles, took a red-eye home and was at Fenway at 9 the next morning for the Sox' Patriots Day game." You don't do that unless you really love what you're doing, and you could tell. Plus, you have to love a baseball writer with a rock CD coming out on July 4.
We wish Gammons and his family all the best, and hope for a speedy recovery.
Peter Gammons Has An Aneurysm [Boston Globe]