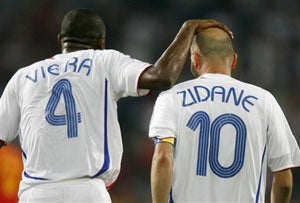 Admit it: After weeks of watching the Beckhams , Ballacks , Figos and Tonis and the rest of the preening World Cup showponies parade their smoldering good looks and luxuriant manes around the field after a match, didn't it feel good yesterday to see a couple of ancient chrome domes like Zidane and Barthez walk off, arm in arm, grinning and laughing just like it was 1998 all over again? Like they were on top of the soccer world ... and still nutmegging Linda Evangelista.
Ah, those were the days, mes amis footballeurs, and for one brief glorious moment (actually, seven memorable minutes), Les Bleus reached across the years and conjured up the cunning and ebullience that made them World Champions in 1998 and Kings of Europe in 2000.
Imagine the odds you could have gotten if you had turned to the guy in the seat next to you, just before kickoff, and said something like, "I know Spain has been on a roll, playing some of the most stylish and exciting soccer of the tournament, and that they're young and fast, and that France barely scraped into the second round, and that they're old and bald and hate their coach, and that Zidane is a sad shadow of his once great self, and Vieira hasn't been the same since he left Arsenal, and that Barthez hasn't been the same since all those supermodels figured out that without a World Cup medal around his neck he was just another ugly Frenchman ... I still like Les Bleus to beat La Furia Roja. Wanna bet?" And then just to make sure your seatmate thought you were totally insane, you add "And not only are they going to beat Spain, they are going to do it without Thierry Henry scoring."
OK, I'll admit it. I've been pimping for France since '98 — what with several of their stars playing their club ball for a certain North London team — but even a homer like me never imagined what transpired yesterday in Hanover. After all, not only had the French struggled to qualify for the World Cup after going winless and scoreless in 2002, they had descended into turmoil since arriving in Germany with many of their players in open revolt against their eccentric, astrology-loving coach Raymond Domantech. The stars had particularly not aligned for Zidane, who had been lured out of international retirement for one last World Cup hurrah and had looked slow and unhappy since the tournament began.
But you don't become the three-time World Player of the Year unless you possess the kind of preternatural football gifts that transcend age and reason. So yesterday Spain and the rest of the world got to see the Zidane of old rather than an old Zidane. From the 5th minute on, when he sent in the first of his in-swinging corners that had Spain scrambling to clear, Zizou stamped his authority on the match. Every French attack — from the slashing runs of Ribery that led to the first French goal to his venomously swerving free kick that deflected off a Spanish defender's head for Vieira to nod home the second — flowed from Zidane. And yet, as clever and perfectly weighted as his passes were, it was a piece of individual brilliance in stoppage time that will linger in memory alongside his gravity-defying volley in the 2005 Champions League final.
After Vieira (come back, Patrick, all is forgiven) dug out the ball with one of his shuddering tackles, Zidane took off up the left flank, his 34 year old legs betraying none of the exhaustion and wear of 90 will-sapping minutes. Receiving a pass at the edge of the box, he dipped his shoulder to avoid the onrushing Spanish defender and shuffled the ball from his left to his right foot. As he cocked his leg to shoot, the Spanish keeper Casillas guessed right — when the correct answer was left — and France had a quarterfinal date with Brazil.
Soccer historians (both of us ) will note that the last time those two soccer superpowers met in the World Cup, Zidane scored two goals with his head to give Les Bleus a shocking victory. Of course that was eight years ago, and France is older, balder and no longer playing in front of millions of their foie-gras eating surrender monkeys. But with the Brazilians, even after dispatching Ghana 3-0 yesterday, still not bringing their A game, it is tempting to think that Zizou could pull off one more miracle before retiring to the Riviera.
Over the hill? Mon derriere!