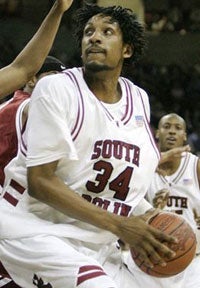 While digging through the breathtaking True Hoop coverage, and after watching Jay Bilas look flabbergasted on "SportsCenter" this morning, we are pleased to report that one of the top stories the day after the NBA Draft is a familiar one: Isiah Thomas is an idiot!
We're going to look at several fun storylines from the NBA Draft today, but we're gonna start with Isiah. The Knicks GM/coach, for all the mockery, has always done well for himself in the draft, which all went out the window when the world went slack jawed once he drafted South Carolina's Renaldo Balkman with the first-round pick. Balkman was most famous for, uh, having two awesome games in the NIT last year. In his hometown paper, his agented was quoted, directly after the pick, as saying, "Everybody in the world was shocked. Sure, some people said, 'Who's Renaldo Balkman?'" Now that's agenting! Balkman, himself, was unavailable to comment. On his draft night.
The fans at MSG were booing, of course, but Isiah said — in a claim that seems unique to his brain — that the Suns were planning to trade up to pick Balkman. To which the Suns surely replied, "Who's Renaldo Balkman?" Isiah describes him as a "Rodman/Artest type." Awesome!
Balkman Picked In First Round [TheState]
Knicks Take Mystery Man [New York Daily News]
True Hoop