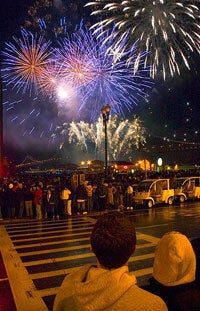 A.J. Daulerio's Cultural Oddsmaker runs every Friday. Send him all kinds of fan mail.
The July 4 weekend is always a great one for sports: baseball, tennis, NASCAR, and not to mention those rousing lawn darts tournaments with drunk uncles. If you're not outside doing something active, well, you'll probably be inside, ironing some linen pants, watering the gardenias or gossiping about The Devil Wears Prada with a couple of the gals from the office.
If you're not doing that, you might as well be wagering on sports.
Here are some side bets, over/unders to make your weekend a little more interesting. Watch out for misfired lawn darts, and remember, you dope: Sparklers do not really count as fireworks. Wuss. What's wrong with you?
OVER/UNDERS:
Mets-Yankees Subway Series
Brawls on field: 2
Brawls in stands: 5
Brawls on subways: 8
People wearing MTA uniforms: 2
I Heart David signs: 3
I Heart Derek signs: 5
I Heart Alay signs: 1
I Heart Takeru Kobayashi signs: 1

Cubs/White Sox Series
Brawls on field: 2
Brawls in stands: 6
Brawls on Circle Line: 4
Brawls featuring bratwurst: 2
Ozzie Guillen press conference flareups: 2
Dusty Baker press conference flareups: 1
I Heart Jay Mariotti signs: 2

World Cup Games
Goals: 3
Goals!: 4
Gooooooooooals!!!!!!!!!: 5
Pony-tailed commentators: 2
Yellow cards throughout weekend: 4
Red cards throughout weekend: 3
Legitimate green cards of spectators at New York pubs: 10


Wimbledon
Agassi montages: 12
Agassi montages featuring Poison haircut: 3
Nadal montages: 2
Federer montages: 2
Pete Sampras interviews: 1
Percentage of Sampras' hair that's not see-through: 12%
Tour de France
Angry fans throwing water cups during Stage 1: 12
Angry fans throwing syringes during Stage 1: 10
Lance Armstrong interviews: 15
Robin Williams interviews: 4
Gratuitous biker short shots: 15
Gratuitous Robin Williams biker short shots: 2