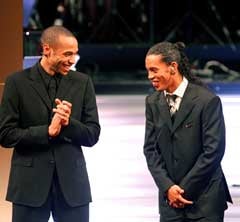 1:00, Lifetime. Movie. A League Of Their Own. Just in case you can't wait for Rosie O'Donnell to take her place on The View.
1:00, Speed. Auto Racing. Formula One Racing United States Grand Prix Qualifying. If you don't watch the qualifying, tomorrow's big race won't mean anything to you.
1:00, Fox (East). MLB. Mets @ Yankees, White Sox @ Cubs, Astros @ Rangers. Mets and Yankees fans get McCarver this week, lose lucky bastards.
3:00, Speed. Auto Racing. Craftsman Truck Series: O'Reilly Auto Parts 250. Sweet, I've been waiting for the race sponsored by the company that also advertises on Bob Knight's chest.
3:00, NBC. Golf. U.S. Women's Open Championship, Third Round. Catch the young stars of the LPGA before they blossom into womanhood.
3:00, ESPN. World Cup. Brazil vs. France. Ronaldinho and Henry. It's not often that the two best players in the world get together... actually, yeah, it was only a few weeks ago. But it's still kind of awesome.
3:55, ABC. Golf. Buick Championship, Third Round. It's getting to be like tennis, where the women's matches are more interesting than the men's.
4:00, Fox (West). MLB. Dodgers @ Angels. For bragging rights in a city where no one really cares what happens.
5:00, CBS. Poker. Intercontinental Poker Championship. Is anyone watching this thing? Is it decent?
6:00, ESPN2. MLS. Red Bulls @ Revolution. I think maybe the Red Bull people should've considered buying a good team. Their beverage has failed to give anyone wiiiings.