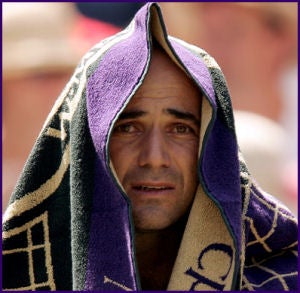 In 1987, Andre Agassi lost his first match at Wimbledon in straight sets, and that is exactly how he lost his last one. Rafael Nadal took him out this morning, unmercifully hammering the old man, 7-6 (7-5), 6-2, 6-4.
Piers Newbery, one of the few people in England who noticed that something other than soccer happened today, pens a nice little tribute to Agassi's Wimbledon career. On Wimbledon, Agassi says, "This is the place that first taught me to respect the sport." And if that hadn't happened, who knows... Agassi might still be rocking the pink spandex shorts to this day. So thank you, Wimbledon.
But today, Agassi was no match for the younger, stronger, Nadal. Nadal didn't think he'd have it so easy, though.
"On the warm up, the five minutes, I was thinking I'm going [to] lose easy. Agassi was touching the ball unbelievable, very low, very tough. I can't return the ball. But in the match, always is different, no? Maybe I serve my best day in my career, sure."
Yeah, sure.
Agassi Loses in Straight Sets to Nadal at Final Wimbledon Visit [Bloomberg]
Agassi says farewell to SW19 [BBC Sport]