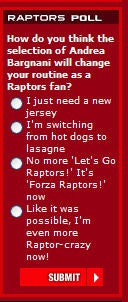 In need of a point guard, and realizing that free agents flock to Toronto like women flock to bloggers, the Raptors acquired a point guard in a trade last night. T.J. Ford heads north of the border, and Charlie Villanueva goes back the other way to play alongside Andrew Bogut in Milwaukee.
This could be one of those deals that works out for both sides. Milwaukee gets a hairless 6'11" rookie who averaged 13 points a game last year. Those do not grow on trees. And the old maxim says that you don't trade big for small, but that was before the Phoenix Suns existed, and before the Raptors wanted to rip them off. TJ Ford could kinda be like Steve Nash, if Steve Nash wasn't as good as he is. Ford, like Nash, is small, lightning fast, distributes the ball, and can drive the lane. He's got the back problems, too. It's almost uncanny.
I feel for T.J. Ford here. He spends his entire pro career in Milwaukee, wearing purple. They finally drop the purple, and then they send him to Toronto. Where the mascot is a goddamn purple dinosaur.
And the poll pictured there is something I spotted on the Raptor website. Just because it amused me.
Numbers Game: Ford-for-Williams [TSN.ca]