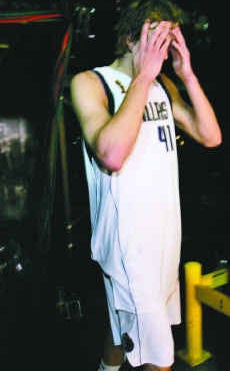 Dirk Nowitzki is taking his leadership role on the Dallas Mavericks seriously. He's not calling out another player, he's not even calling out a coach. He's got issues with team owner Mark Cuban. From an article in the Dallas Morning News, here's Dirk on Cuban's courtside behavior:
"Do I think it's a bit much sometimes? Yeah. He's got to learn how to control himself as well as the players do. We can't lose our temper all the time on the court or off the court, and I think he's got to learn that, too. He's got to improve in that area and not yell at the officials the whole game. I don't think that helps us.

"We all know what Mark brings to the team, how he supports us. We live with who he is, and we love him that way. But do I think it's good for us always? No."
I don't know if this is what people mean by Cuban "making himself the story," but Dirk may have a point. You see your boss bitch, maybe you feel it's alright to bitch yourself. For example, one time I saw my boss at a bar, and now I show up drunk to work three times a week.
But Dirk says he's told Cuban all this before. In fact, he, Steve Nash, and Michael Finley once went to Cuban and asked him to take his ass up to a luxury box. Of course, as you may have noticed, Cuban refused.
Dirk tells Cuban to chill out [Dallas Morning News]
Im sorry for what I make you cover. [Blog Maverick]