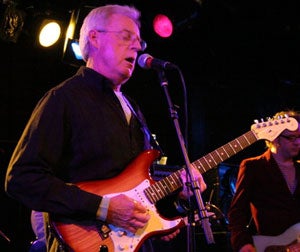 Excellent news: ESPN's Peter Gammons is out of the hospital and entering a rehabilitation center. It has been three weeks since his brain aneurysm, and his wife says he and his doctors are pleased with the progress he has been making.
Gammons' CD, "Never Slow Down, Never Grow Old", arrived at our apartment the other day, and you know what? It's really not that bad. Having suffered through the crime against humanity that was "Oh Say Can You Sing" — which featured banjo stylings of Matt Ginter and the rock selections of Scott Linebrink — we were nervous, but it's actually not too shabby, in an aging, less stoned Tom Petty type of way. We were actually surprised.
Anyway, get back soon, Peter. We're expecting a big Fenway Park ovation by August.
Gammons Released From Hospital [ESPN]

"Never Slow Down, Never Grow Old"