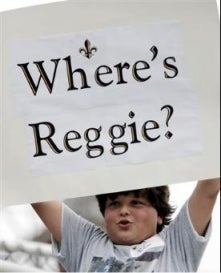 It seems like Reggie Bush's holdout garnered a lot of attention for a something that ended up lasting a grand total of two days. Many of you had more contentious negotations while trying to get laid this weekend. And as soon as he scores his first touchdown, no one's even going to remember that there was a holdout.
Details on the deal are not yet available, according to Len Pasquarelli, but it's believed that Reggie's getting considerably more than #3 pick Vince Young, but not quite as much as #1 pick Mario Williams. RealFootball365 reports Bush is getting $300,000 less than Mario Williams.
So everyone in New Orleans can be happy now, except for, you know, all the people still affected by Katrina, and Deuce McAllister. Reggie's expected to show up for training camp sometime today, holding a sign that says "I'm right here, dickhead."
Not surpisingly, Bush and New Orleans avoid ugly holdout [RealFootball365]
Bush agrees to six-year deal with Saints [ESPN.com]
Bush Agrees To 6-Year Deal With Saints [WRAL.com]