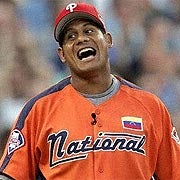 As you may have expected, it's the Yankees who have stepped up and acquired Bobby Abreu. ESPN.com is reporting that the Yankees and Phillies have agreed to a deal that puts Bobby Abreu in pinstripes. The Yanks also pick up pitcher Cory Lidle as part of the deal, and going the other way are shortstop prospect C.J. Henry, reliever Matt Smith, and one more yet-to-be-named minor leaguer.
So that puts the Yankees on the hook for Abreu's salary this year of $13 million, $15 million next year, and probably for $16 million in 2008, pushing the Yankees payroll just over the $7 billion mark. That seems like a lot for a 32-year-old guy who's hitting .277 with 8 home runs and has a reputation for disinterested play. But he's still an amazing talent and once had a very freaky fiancee, so there is upside.
UPDATE: Abreu must waive his no-trade clause for the deal to go through, and his agent says a team would likely have to guarantee the last year of his contract (currently a club option), for him to do so. I'd expect both of these things to happen.
Yankees have tentative deal for Abreu, Lidle [ESPN.com]
Bobby Abreu's Otherworldly Restraint [Deadspin]