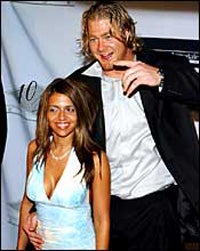 Jeremy Shockey just wants you to know that he won't be letting up this season ... he plans to party as hard as he did in 2005. Man, where would we be without Shockey? With Terrell Owens minding his manners in Dallas and Marcus Vick having not brandished a weapon in months, we are truly blessed that Shockey is still around. At Giants press day on Sunday, Shockey did not disappoint:
Everyone knows I drink here and everyone knows I go out and party, but I take good care of my body. I play hard. In life, I live life hard. I play hard on the football field. That's just my mentality.
Oh, and Shockey also talked about Eli Manning's inability to get him the ball and called Tom Coughlin "an ass." Outstanding! We just wish that more NFL players acted like Dom from Entourage. Although a little Clinton Portis dress-up wouldn't hurt next time.